Two walking charities have united behind plans to introduce a default national 20mph speed limit in Scotland.
Living Streets Scotland and Ramblers Scotland say that the existing approach – to create 20mph streets by exception – is 'back to front'.
Stuart Hay, director of Living Streets Scotland, gave evidence to the Scottish Parliament's Rural Economy and Connectivity Committee on 6 February.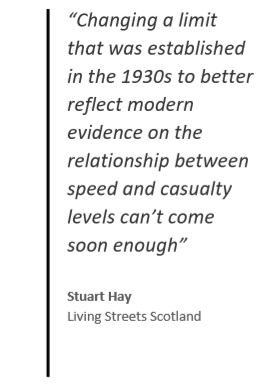 Stuart Hay said: "20mph is currently the default in some – but not all – local authority areas. This inconsistent approach is confusing for drivers and makes education on speed more challenging.
"There is strong evidence that any reduction in average and maximum speeds in urban areas will save lives, with speed being the critical factor in relation to stopping distances in a collision."
In September 2018, Mark Ruskell, a Scottish Green Party MSP, introduced a new Bill to lower the default speed limit in urban areas across Scotland from 30mph to 20mph.
The Safer Streets Member's Bill, which has cross-party support, is still at stage one of the parliamentary process – which is when parliament considers the general principles of the bill and decides whether or not to agree to these.
Stuart Hay added: "Changing a limit that was established in the 1930s to better reflect modern evidence on the relationship between speed and casualty levels can't come soon enough.
"In 2017, no one died in 20mph limit whereas the majority of pedestrian deaths and serious injuries occur in 30mph areas."
Helen Todd, campaigns and policy manager at Ramblers Scotland, said: "Making 20mph the default urban speed limit would boost safety and air quality, help create a more active population and align Scotland to international best practice.
"We call upon the Scottish Parliament to grasp this opportunity to make walking and cycling more attractive options for everyone, including the 30% of Scottish households that don't have access to a car."
---