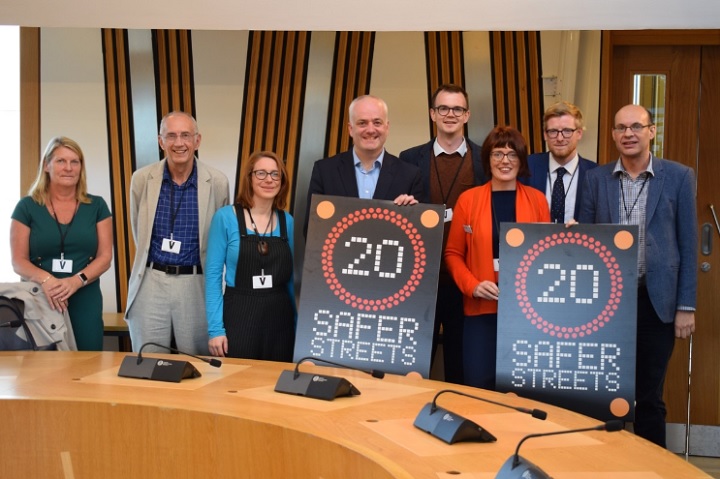 A committee of MSPs has rejected a Bill to make 20mph the default speed limit across Scotland, saying a 'one-size-fits-all' approach would not give local authorities enough flexibility.
The Restricted Roads (20mph speed limit) Scotland Bill was first introduced by Mark Ruskell, a Scottish Green Party MSP, in September 2018.
Mr Ruskell says that making 20mph 'the norm' in urban areas would reduce injuries and deaths and cut air pollution.
Over the last few months, the Bill has been scrutinised by Scottish Parliament's rural economy and connectivity committee – with witnesses including transport secretary Michael Matheson, who said decisions about 20mph speed limits 'were best left to councils'.
Reaching its conclusion, the committee said that while it supported lowering some speed limits, it was unable to recommend the general principles of the Bill.
Edward Mountain MSP, committee convener, said: "After considering extensive evidence, the committee has concluded that the introduction of 20mph speed limits on all restricted roads in Scotland in a one-size-fits-all approach is not the most effective way of achieving those objectives.
"The committee is of the view that local authorities should have the flexibility to decide where new 20mph zones would be most effective and appropriate for their areas."
MSPs urged to 'find a backbone'
Responding to the outcome, Mark Ruskell says the committee had 'put the motoring lobby ahead of child safety', and is urging SNP members to 'find a backbone' before the Bill is voted on by Scottish parliament in June.
Mr Ruskell said: "My Bill will be put to a vote in two weeks' time. That's how long the SNP have to find a backbone and get behind it.
"They claim to be the party that embraces change, yet they've teamed up with the Tories to block progress and have fallen behind Wales, who this month announced a national switch to 20mph limits.
"Every child in Scotland deserves to live in a street with a safe speed limit. At the moment that's a postcode lottery."
Decision a 'setback for safer streets'
The Bill's rejection by the rural economy and connectivity committee has been criticised by walking charity Living Streets.
Stuart Hay, director of Living Streets Scotland, said: "It's deeply disappointing that a piecemeal approach to 20mph limits in Scotland will continue.
"People in Edinburgh and Glasgow currently benefit from safer streets, whilst smaller communities in many council areas are ignored.
"Slower speeds save lives. Very few people die in streets that are 20mph, whilst most pedestrian casualties occur in urban 30mph areas. It's appalling this measure hasn't been properly considered or supported."
---