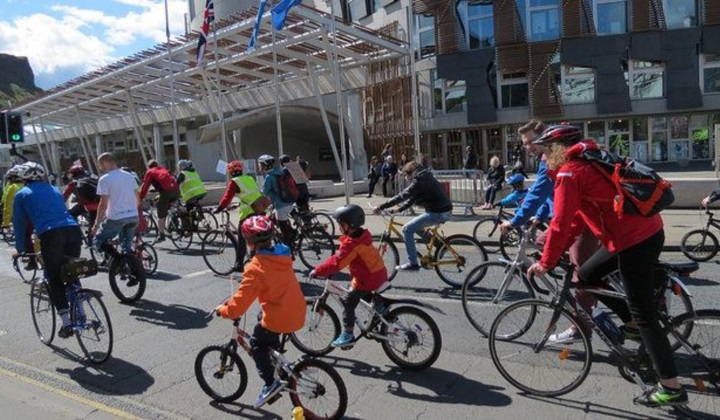 Plans to make Scotland the first country to adopt a default speed limit of 20mph will be considered by MSPs 'within weeks'. (The Herald)
A proposed 'Member's Bill' from the Scottish Greens' environment spokesperson, Mark Ruskell MSP, would see the current 30mph default speed limit on restricted roads reduced to 20mph.
Mr Ruskell, who has cross-party support, says the move would lead to fewer severe and fatal road casualties, encourage more people to walk and cycle, and cut air pollution.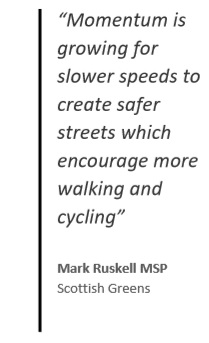 He added that introducing a national 20mph speed limit would cost £4.3m in signage – compared to £17.2m if every local authority rolled out their own Edinburgh-style 20mph zones individually.
Alongside other Green Party MSPs, Mr Ruskell took part in 'Pedal on Parliament' on 28 April – an event organised to highlight the need for 'safer streets with lower speed limits, and investment in cycling and walking routes to prevent ill-health'.
Mr Ruskell said: "Momentum is growing for slower speeds to create safer streets which encourage more walking and cycling.
"Along with public support, and that of the leaders of Scotland's two biggest city councils, we have support from the OECD and the World Health Organisation for 20 mph to become the appropriate speed limit where walkers, cyclists and motor vehicles mix.
"I can assure campaigners that I'll be working hard in the months ahead to bring my Member's Bill to fruition so we have safer streets for walking and cycling."
Alison Johnstone MSP, health spokesperson for the Scottish Greens, said: "The seventh consecutive Pedal on Parliament is a reminder that our streets are there for all of us – whether travelling on foot, by bike, by wheelchair, or mobility scooter.
"I've been demanding more money for walking and cycling routes for many years and the budget Green MSPs negotiated with the Scottish Government this year doubled the funding available.
"Investing in walking and cycling has to be at the core of any preventative health agenda, as we have long known that spending more time being active is key to preventing Type 2 diabetes, for example.
"None of us can be in any doubt about the need to tackle toxic air pollution, and address the devastating health impacts of Scotland's obesity epidemic."
---