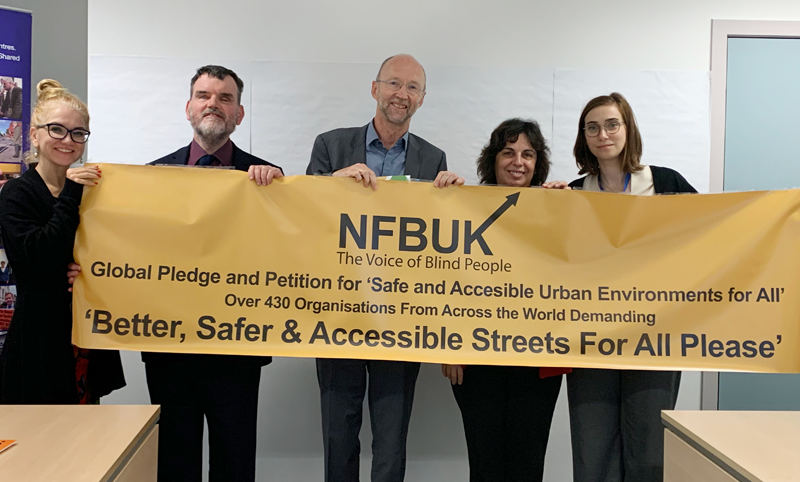 A charity which represents blind and visually impaired people has stepped up its campaign to have shared space schemes abolished – describing them as unsafe, inaccessible and a 'big mistake'. 
In a petition to the European Union, issued on 11 October, the National Federation of the Blind of the UK (NFBUK) says shared spaces 'take away the safety and navigational features in the urban environment that keep blind people away from moving traffic'.
First developed in the Netherlands, shared space schemes – where features such as kerbs, road surface markings, designated crossing places and traffic signs are removed – have been introduced in a number of UK town centres.
The shared space concept is intended to create a safer road environment – based on the theory that drivers will reduce their speed because of uncertainty over who has priority.
The petition, published to mark International White Cane Safety Day (15 Oct), raises particular concern over the removal of pedestrian crossings with traffic lights which, according to NFBUK, makes the spaces 'very scary to navigate independently'.
The NFBUK petition says this 'wide scale discrimination' has led many local authorities to 'u-turn' – putting pedestrian crossings back into schemes.
Andrew Hodgson, president of the NFBUK, said: "As a totally blind person these schemes just do not work for me. The theory works on making eye contact with the drivers or cyclists to cross the road and I simply cannot do that. 
"These schemes are simply not safe or accessible for myself and colleagues who are blind, deafblind and partially sighted. 
"It is clear that a mistake has been made with the original concept and we hope we can highlight this to the highest level, so action can be taken to rectify this problem."