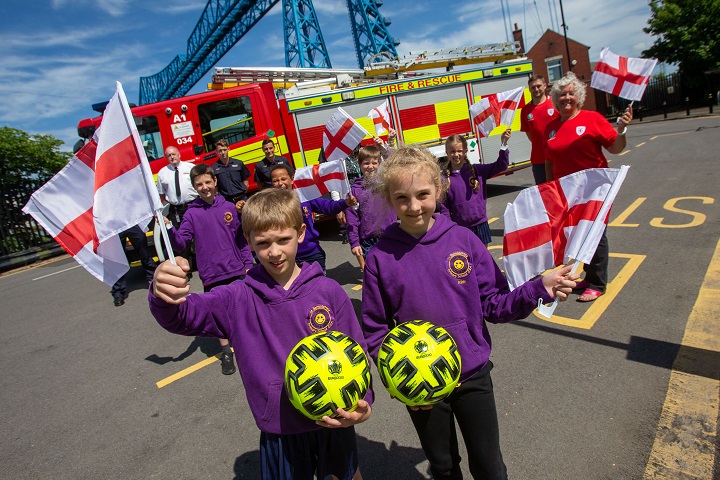 Motorists in the north east are being urged to show drink and drug driving the red card during Euro 2020 – with the backing of the region's three biggest football clubs.
Drink and drug driving typically increases during major sporting tournaments as people gather to watch the games over drinks. 
Stats show during Euro 2016, there was an increase in drink and drug driving injuries in the north east, both on the day of and the day after England's matches. 
On these days, drink/drug drive injuries increased from 6% to 8% of all injuries, and those resulting in death or serious injury rose from 8% to 19%.
Road Safety GB North East (RSGB NE) has teamed up with Middlesbrough, Newcastle and Sunderland football clubs – as well as the emergency services – to urge people not to get behind the wheel after drinking or taking drugs during the tournament, which starts today (11 June).
They warn that with the pandemic impacting on people's ability to party during the past 15 months, the temptation to set up a party atmosphere – and increase alcohol consumption – is likely to be high.
Peter Slater, from Road Safety GB NE, said: "We know people are looking forward to the Euros and have lots of plans to meet up with friends and family to watch the games.
"It's been a long time coming and we don't want to spoil the fun, but we're asking people to be sensible. If you know you're going to be drinking, plan your transport home beforehand, or be the designated driver. If you're driving, stick to soft drinks. Ask yourself, could you live with it if you hurt or killed someone?
"And look out for each other. If you know someone has been drinking, don't let them drive. Speak up – it could save a life." 
Middlesbrough midfielder Jonny Howson has urged people to 'take it easy'. 
He said: "I think we're all really looking forward to Euro 2020, especially after the year we've had with the pandemic. I know everyone is going to get behind England, and we all hope we do well.
"But, if you're planning to drink, do the right thing and make sure that you don't drive. Walk, get a taxi, or a lift, but don't get behind the wheel."
---