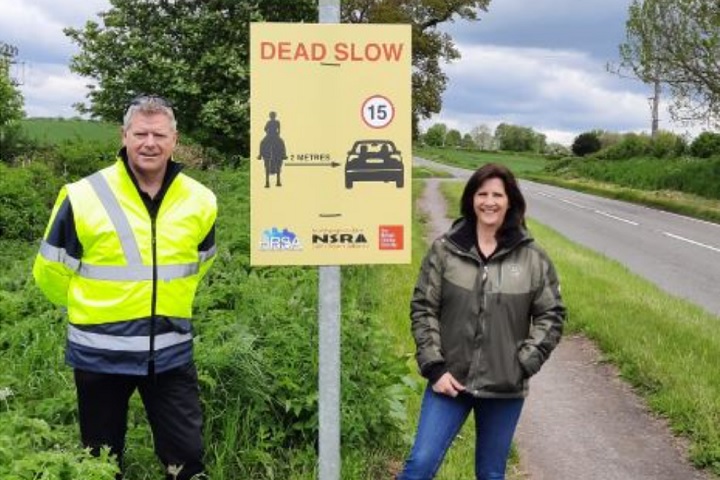 The Northamptonshire Safer Roads Alliance has welcomed the installation of new road signs which encourage drivers to slow down around horses.
The signs have been put up in three locations across the county, as part of the British Horse Society's (BHS's) Dead Slow campaign.
The campaign, launched in 2017, encourages drivers and motorcyclists to slow down to a maximum of 15mph when they encounter horses on the road – and to give riders plenty of room when overtaking or passing them.
The signage has been funded by the BHS after some of its members raised concerns about the dangers of close passing at the three locations in Little Brington, Lower Harlestone and Church Brampton.
Matthew O'Connell, Northamptonshire Police's safer roads operations manager, said: "Horses and their riders are a common sight in our rural communities, and therefore we're happy to support the new signs.
"The signs will help to remind everyone that our roads are shared spaces, where all users have a right to respect and a responsibility to help keep themselves and others safe."
The Highway Code states motorists should give motorcyclists, cyclists and horse riders at least as much room as they would when overtaking a car, and the British Horse Society recommends drivers should:
Slow down to a maximum of 15mph

Be patient, don't sound your horn or rev your engine

Pass the horse wide and slow, (if safe to do so) at least a car's width if possible

Drive slowly away
Matthew O'Connell added: "Taking time to slow right down and pass horses with plenty of room, whether overtaking or going in the opposite direction, keeps you as a driver safer, as well as protecting the rider and their horse. 
"Even if they can't safely take a hand off the reins to say thank you, they'll really appreciate it.
"We would also encourage riders to make sure they and their horse are easy to spot by using high visibility clothing and accessories, and to thank considerate drivers whenever it is safe to do so."
---