More than 10m road users have completed a driver retraining course since they were introduced in 2010 – 90% of whom attended a speed awareness course.
Statistics published by the RAC Foundation show that in 2018, 1.45m people accepted a place on one of the courses sometimes offered by police as an alternative to a fine and points for some motoring offences.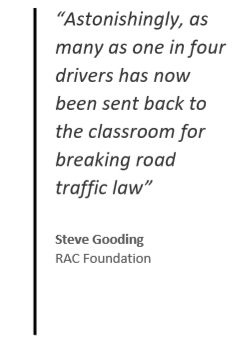 1.19m of these – 82% of the 2017 total – attended a speed awareness course, taking the total number of attendees for this type of course to nine million.
The retraining courses available include:
National Motorway Awareness Course (NMAC) – for drivers who exceed the active variable speed limit on motorways

National RIDE Course (RiDE) – for motorcyclists whose behaviour brings them to the attention of the police

National Speed Awareness Course (NSAC) – designed to cover speeding offences

Safe and Considerate Driving (SCD) – for drivers who, as a result of a lapse of concentration or an error of judgement, have been involved in a collision without serious consequences

What's Driving Us? Course (WDU) – in circumstances where a driver's 'mischief' was intentional or deliberate

Your Belt Your Life (online course) – for offenders caught not wearing a seatbelt

Almost all the courses are run by private companies and the fee for attendees can vary by type, location and provider. NDORS (National Driver Offender Retraining Scheme) – the organisation that administers the scheme – said course fees in 2017 ranged from £75 to £99 – £45 of which is returned to the police force which referred the offender.

Steve Gooding, director of the RAC Foundation, said: "This data suggests that, astonishingly, as many as one in four drivers has now been sent back to the classroom for breaking road traffic law – hopefully to emerge as ambassadors for better, more responsible motoring behaviours.

"While the logic of sending drivers who commit minor transgressions back to the classroom is clear, it begs the question of what should be done in a similar vein to tutor those found guilty of more serious breaches of the rules of the roads before they injure or kill themselves or others?"
---