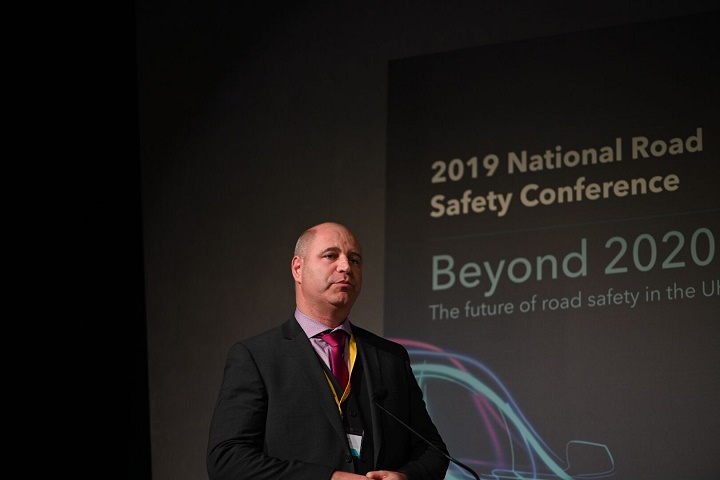 'Speed Dating' once again proved to be a highlight at the 2019 National Road Safety Conference, with 90% of attendees rating the session as 'good or excellent'.
Speed Dating – which comprises a quick fire series of five-minute presentations about specific campaigns and interventions – was piloted at the 2018 National Conference, and following a successful debut returned this year.
Among the highlights was a presentation by inspector Andy Trotter from Lancashire Constabulary (pictured above), who outlined how the force was providing 'education on a shoestring'.
Insp Trotter's presentation stressed the importance of innovation – with a demonstration of a simple, low cost initiative in which pieces of drainpipe are used to measure the height of children.
His presentation was rated 'good or excellent' by 86% of delegates.

A presentation by Zena Oliver, road safety manager, Via East Midlands, proved equally popular, also being rated 'good or excellent' by 86% of delegates.
Zena's presentation outlined a campaign to tackle distraction among pedestrians.
'Ditch the Distraction' involved using pavement art outside school entrances – and proved to be effective in engaging with young pedestrians.

Another highlight was a presentation by Debbie Huckle, vice chair of 2Wheels London and road safety officer at the London Borough of Brent.
Debbie's outlined the 'Angry Al' #RideBetter social media campaign, launched by 2Wheels London in August.
The campaign comprises eight films which encourage riders to use the roads in a manner that gives them the best chance of staying safer and avoid being involved in a collision.
In total, the films have been viewed approximately 140,000 times across various social media platforms.
Debbie's presentation was rated 'good or excellent' by 85% of delegates.
Click here to view all 12 presentations from the Speed Dating session.
---