The RAC is urging motorists to ensure they're safe to drive the 'morning after the night before', on the back of research suggesting around five million drivers believe they may have got behind the wheel while over the limit in the past year.
16% of the 1,727 motorists questioned by the RAC as part of its annual report on motoring say they think they have been guilty of drink-driving, either 'immediately after consuming alcohol' or the morning after a 'late night drinking session'.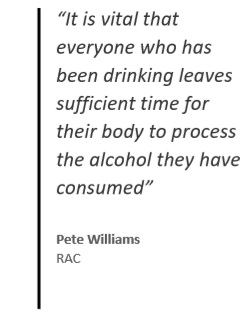 10% believed they have driven when over the limit the morning after 'drinking heavily the night before', while 8% believed they had done so 'shortly after having a drink'.
The study also found that men are more likely to risk drink-driving than women.
Looking at location, the study suggests drivers in London have a greater tendency to drive while over the limit – with 26% saying they think they have been guilty of doing so (compared with 16% in the general population and 11% of those who live in rural areas).
The RAC says it is highlighting the 'morning after' issue in an attempt to get every motorist to make sure they are safe to drive the next day during the festive period.
Pete Williams, RAC spokesperson, said: "Anyone who has been out celebrating during the festive period should be very mindful of not being over the limit when they go to drive the next day.
"Anyone who thinks they are likely to have sobered up enough to drive just because they went to bed for a few hours may just be about to ruin someone else's Christmas as well as their own.
"It is vital that everyone who has been drinking leaves sufficient time for their body to process the alcohol they have consumed.
"The trouble is everyone metabolises alcohol at different rates so the message has to be to err on the side of caution by leaving extra time before deciding to drive, or better still to use an alternative form of transport such as bus, taxi or train, or get a lift from a friend or colleague.
"If you are having to think whether you are sober enough to drive then the answer is you probably aren't."
---
Featured image: RAC
---