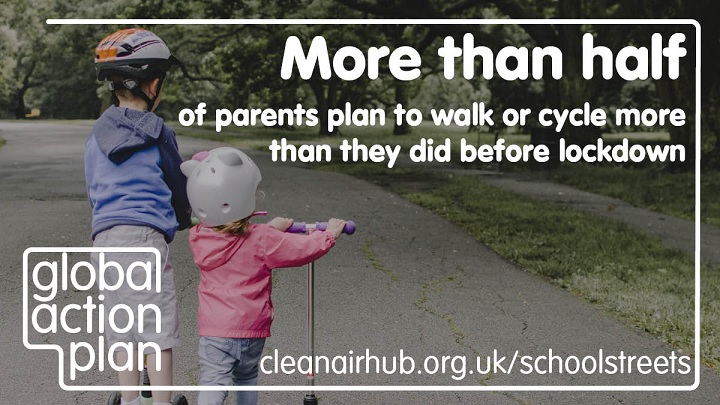 Local authorities are being urged to step up their support of School Streets schemes, in order to ease some of the anxieties faced by parents as their children return to the classroom.
The plea, from a 10-strong group of NGOs, comes on the back of a new survey which suggests 60% of parents are worried about increased levels of traffic as lockdown restrictions are lifted.
However the survey, commissioned by Global Action Plan, also suggests parents are 'keen to play their part' – with more than half (53%) of respondents planning to walk or cycle more than they did before lockdown. 
Of those who plan to be more active, the vast majority (79%) say that restricting vehicle access at certain times of the day would be helpful – leading for the call for local authorities to introduce more School Streets schemes.
School Streets, which have been introduced in urban areas across the UK, typically involve closing roads around the school gates to motor traffic at peak times.
On 1 June, a pilot scheme at six schools in Leeds went live – with its findings to be used to help to inform the model to be rolled out to other schools in the city.
The group of NGOs – which includes Living Streets and Cycling UK – say social distancing requirements at the school gate risks children and parents spilling out into the road, making vehicle restrictions on school streets an 'urgent safety need'.
Chris Large, senior partner at Global Action Plan, said: "Returning to school is full of anxieties for parents and simple street improvements would drastically reduce the worry over children being able to get to school safely. 
"Some local authorities are doing a great job of making active travel safer, but some have not even started. Whether a child's neighbourhood keeps low traffic and clean air beyond the end of the lockdown shouldn't be a postcode lottery."
Jenni Wiggle, Living Streets interim CEO, said: "Parents' concerns about the back to school traffic are totally legitimate and while the pandemic has been a truly nightmarish time for so many of us, one positive thing has come out of it – we are experiencing the lowest levels of traffic since 1920 when Living Streets was set up.
"More families walking to school is something we've wanted to see for a long time, and we hope many will decide to walk or cycle local, everyday journeys like the walk to school. 
"School Streets have a real part to play in improving the area outside the school gates, making them a safer and cleaner place to spend time."
---