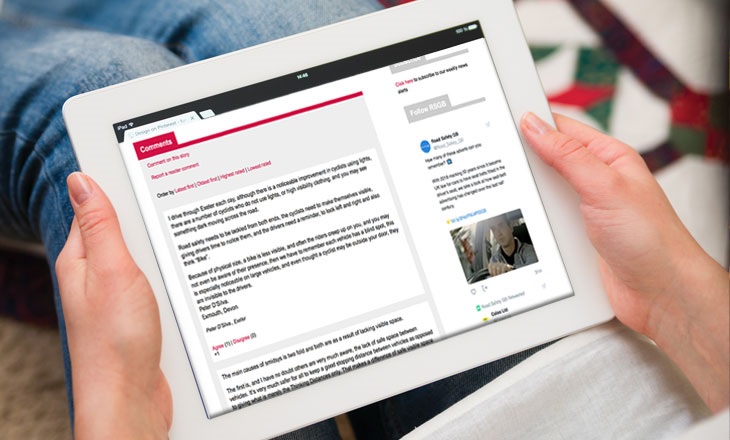 While the vast majority of Road Safety News readers rarely or never comment on news items, they nevertheless feel that, on balance, the discussion threads enhance the newsfeed.
That's the headline finding from a survey carried out by the editorial team at Road Safety News, to test the water with regard to reader comments and discussion threads.
The same survey was circulated to two different groups – local authority road safety officers and other Road Safety News subscribers – both of which recorded very similar views.
The newsfeed appears to be popular and widely read, with 77% of RSOs and 71% of all subscribers visiting it at least once a week.
Despite 57% of RSOs and 63% of other subscribers stating they never comment on news stories, a combined total of 65% believe the discussion threads improved the newsfeed (68% of RSOs and 64% of others).
That sentiment is reflected in the fact that 100% of RSOs – and 98% of subscribers – read the discussion threads at least 'every now and again'.
If discussion threads were removed, 63% of RSOs and 61% of other subscribers said it would make no difference to the frequency with which they visit the newsfeed.
In a question only asked to RSOs; 53% said the newsfeed is 'very useful' in their role as a road safety professional, with a further 44% describing it as 'quite useful'.
Nick Rawlings, editor or Road Safety News, said: "Moderating reader comments and managing the discussion threads is quite a time-consuming task for our very small editorial team.
"We carried out the survey to see whether the resources we put into this are justified – and the response from both road safety officers and our wider readership indicates that it is.
"There were a number of adverse comments about the small number of contributors who tend to monopolise discussion threads – probably because they have plenty of time on their hands – and about the negative tone of many of the posts.
"Despite this, our readers value the newsfeed and enjoy reading the discussion threads, so we shall continue as we are.
"I would, however, take this opportunity to appeal to the very small number of contributors who post, by any measure, far too frequently.
"Our readers tire of hearing your views, and often switch off and don't bother reading your comments – you would have far more impact if you posted less frequently."
---