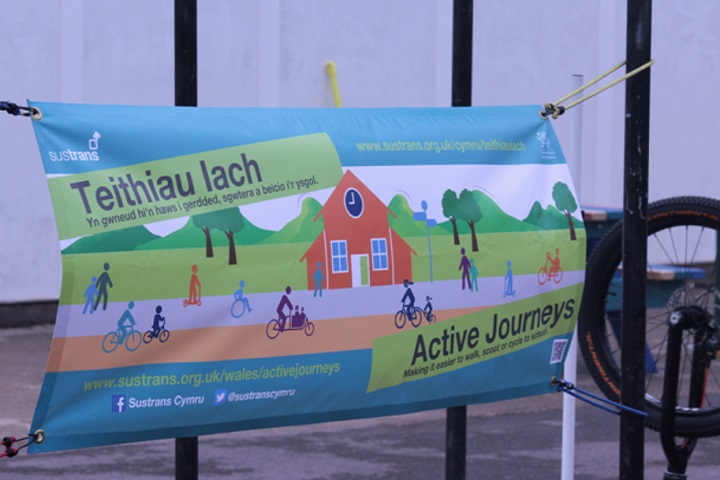 During Big Pedal 2021, schools across Wales made a total of 110,000 active journeys, according to organisers Sustrans.
28,000 pupils at 101 schools in Wales took part in walking, 'wheeling', scooting and cycling to school, saving an estimated 190,000 car trips.
Described by Sustrans as the 'UK's largest inter-school active travel competition', Big Pedal 2021 took place 19-30 April. The Big Pedal website says 2,254 schools and more than 760,000 pupils across the UK took part – resulting in more than 3.4m active travel journeys being made.
Sustrans, the charity that sets out to 'make it easier for people to cycle and walk', says the distance travelled actively by schools during 2021 Big Pedal is 'the equivalent of one trip to the moon or six trips around the world'.
In North West Wales, pupils at Ysgol Gynradd Llanllechid totalled an impressive 1,424 active journeys during Big Pedal 2021, with one pupil cycling an 'inspiring' 20 miles to and from school during the week.
Bryn Deva school in Flintshire,
North East Wales,
topped the Big Pedal leaderboard for the one-day challenge in Wales, with an 'incredible' 93.99% of journeys travelled actively.
At
Afon y Felin Primary School
in South Central Wales,
90.4% of journeys were travelled actively, described as a 'fantastic achievement by pupils, parents and school staff'.
In West Wales,
Ysgol Bro Hyddgen school in Machynlleth took part in the competition, completing a total of 1,823 'amazing' active journeys.
Haf Ap Robert, assistant head teacher at Bro Hyddgen, said: "Taking part in the Big Pedal has raised awareness amongst the children, staff and parents of the alternative possibilities for travelling to school. 
"I believe the campaign awakens a sense of responsibility towards the environment and fosters principled and informed citizens here in Bro Hyddgen."   
Finally, in South East Wales,
Ty'n Y Wern Primary School in Trethomas organised a number of events during the competition including Dr Bike, Scooter Skills and Bling Your Ride – while 83.56% of journeys were travelled actively during the challenge.
---