Steve Horton, Road Safety GB's director of communications, has made an impassioned plea for Government to think again with regard to road safety targets.
Road Safety GB is also calling for road safety targets to be renamed 'ambitions' – because the phrase 'demonstrates a clearer aspiration for the future'.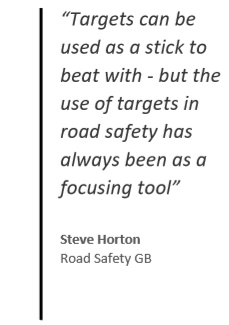 Steve Horton's intervention comes in the wake of the parliamentary road safety debate on 5 November, during which the road safety minister Jesse Norman made it clear the Government is not minded to reintroduce targets.
Road Safety GB has aligned with PACTS in calling for a change of heart.
In a statement issued today (12 Nov), Steve Horton said: "The vast majority of personal injury crashes on our roads can and should be avoided, but for this to happen road users must accept the importance of safer behaviour – and national targets confirm this importance.
"Targets can be used as a stick to beat with – but the use of targets in road safety has always been as a focusing tool to ensure stakeholders, and more importantly decision makers and funders, remain committed to reducing the number of life changing events on our roads.
"Road safety professionals have always viewed targets as something not just to aim for – but to exceed.
"In fact, Road Safety GB would like them renamed as 'ambitions' – the word 'target' implies success or failure and relates to a nominal figure, whereas 'ambitions' demonstrates a clearer aspiration for the future."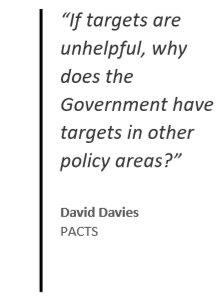 Speaking to Road Safety News last week, David Davies, executive director of PACTS, said road safety targets are needed 'to hold the Government to account'.
David Davies said: "Targets would help to ensure that specific measures were selected on the basis of effectiveness and targeted at substantial casualty numbers, rather than measures which might simply be easy or popular.
"If targets are unhelpful, why does the Government have targets in other policy areas and set them for Highways England?"
Steve Horton went on to reiterate the important role targets can play in helping to protect funding for road safety.
He said: "What road safety professionals really need is a lead from Government to ensure casualty reduction stays high on the list of funding priorities, especially in times when local authorities are struggling to ensure road safety remains a key priority for local funding.
"Targets themselves will not reduce crashes on our roads, but they will demonstrate our commitment to reducing needless death and injury – and help road safety professionals ensure this remains a clear priority for resources and action."
---
HAVE YOUR SAY
What's your view? Should the Government reintroduce road safety targets to help drive down casualties? Register your view in our Twitter poll – or leave a comment below.
HAVE YOUR SAY 💬

Do you support the reintroduction of casualty reduction targets for the road safety sector?

Poll closes at 5pm (14 Nov) – please RT once voted!#RSGB

— Road Safety GB (@Road_Safety_GB) November 13, 2018
---