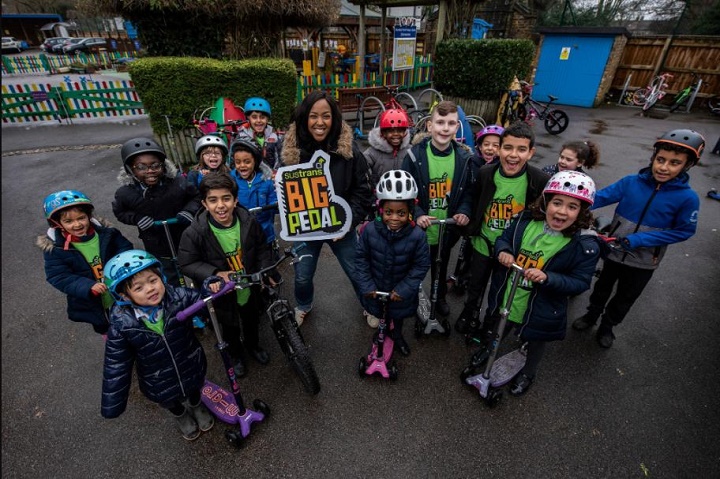 Nearly two thirds of teachers would support a ban on motor vehicles outside school gates during drop off and pick up times, a new survey suggests.
A YouGov poll, carried out for the walking and cycling charity Sustrans, found that 59% of the 840 teaching professionals questioned want the Government to take 'urgent action' to improve air quality near schools.
63% of respondents supported a peak-time ban on motor vehicles at school gates – while 34% thought that encouraging more people to walk, scoot and cycle would help reduce toxic fumes.
26% of respondents backed full school road closures.
Xavier Brice, Sustrans' CEO said: "For too long now, dangerous levels of air pollution near schools have been ignored. Finally, this is starting to change.
"Our survey makes it clear that teachers want urgent action to clean up toxic fumes. They see closing the roads outside their school as an effective solution but need support from local authorities to enact change."
The survey has been released to launch Big Pedal 2019 (25 March – 5 April), the UK's largest competition to encourage more young people to cycle, walk and scoot to school.
Held annually by Sustrans, Big Pedal 2019 has more than 2,200 schools registered to take part.
The initiative is supported by Angellica Bell, radio and television presenter, who is calling for more to be done to create a 'safer and calmer' environment around schools.
Angellica Bell said: "I know first-hand the joys and benefits of riding a bike and how important it is for children to be active from an early age and that's why I support the call for creating a safer and calmer environment around schools for children to cycle and walk.
"Events like the Big Pedal are fantastic because they demonstrate to children, parents and teachers just how beneficial it can be to travel actively to and from school for a few more journeys a week."
Additionally, 40 schools across England, Wales and Scotland are closing their streets to motor vehicles for one-day, to improve air quality and safety outside the school gates.
Xavier Brice added: "Young people across the world are taking action for a better future. Isn't it time we did too?
"We urge local authorities to follow their peers. And call on Governments across the UK to support local authorities and implement clean air legislation to tackle motorised traffic, including large scale investment in walking and cycling to enable more people to choose active and cleaner ways to travel for local journeys."
---