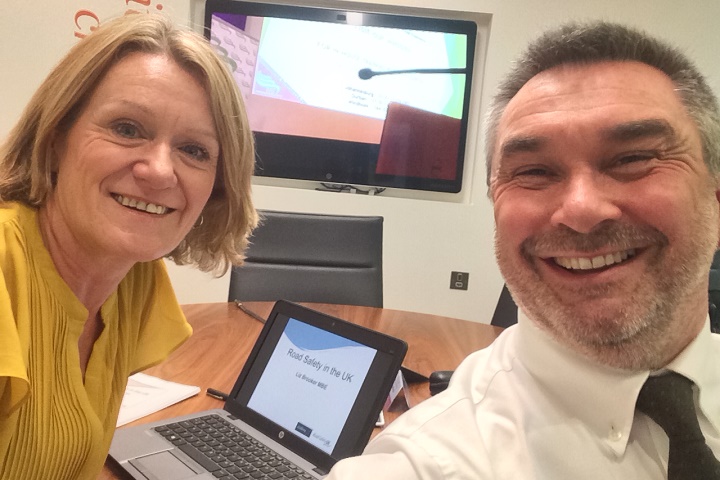 Two Road Safety GB directors have contributed to an international road safety conference in South Africa – without leaving the UK.
Liz Brooker MBE and Jeremy Phillips, Road Safety GB vice chair and director of research respectively, presented to delegates attending the 10th Annual Road Safety Summit in Pretoria – and then took questions from the floor – all via live video link from the CBI offices in London.
Liz Brooker gave an overview of how Road Safety GB goes about delivering road safety in the UK, and how the organisation fits into the national landscape as a key influencer and opinion former.
She also outlined how Road Safety GB works in partnership with other stakeholders to promote road safety education and positively influence politicians and the wider community.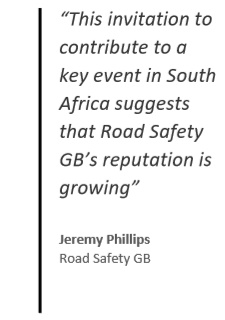 Jeremy Phillips then explained how Road Safety GB supports colleagues at the coalface of road safety delivery in a challenging climate. He also talked about how Road Safety GB has established common professional standards for road safety practitioners, and helped standardise approaches to road casualty reduction.
He also emphasised the importance of conducting a national, multi-agency skills gap analysis – and developing a sustainable model of professional training and support.
Liz Brooker said: "One of the main issues highlighted at the conference was the lack of road safety targets – something the authorities are now looking into.
"Drink driving is another big issue. While the drink drive limit is 0.05, it is still a major problem because enforcement levels are very low.
"With many people walking several miles each day to and from school and to work, there is also a focus on improving pedestrian safety and reducing casualties.
"Delegates came from a number of African countries and comprised a mix of road safety, civil engineering and health professionals, and academics.
"Since our presentation I've had an email from a lady based at the University of Cape Town who, in her capacity as a project manager for UNICEF, is working on an international child safety project."
Jeremy Phillips added: "This invitation to contribute to a key event in South Africa suggests that Road Safety GB's reputation is growing, even in parts of the world where we've not previously had any involvement.
"The conference was an excellent opportunity to showcase the Academy and Road Safety GB International as our means of delivering road safety consultancy and training services overseas."
The presentations were delivered over a 90-minute period during which the pair also took questions from the floor.
Under the theme 'promoting and implementing measures for safer roads', the 10th Annual Road Safety Summit (7-8 Nov) set out to assess South Africa's progress towards the UN decade of action for road safety (2011-2020) – and the role the country's government plays in promoting road safety.
Topics covered on the programme included: traffic monitoring and management through intelligent surveillance; the reintroduction of evidentiary breath alcohol testing; evaluating public transport and its contribution to road accident statistics; and identifying ways to increase the visibility of traffic policing, and ensuring adequate resources for this.
---