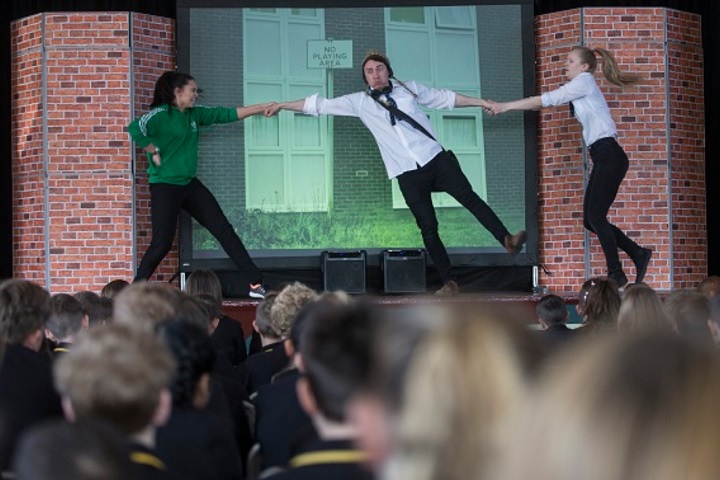 A theatre-in-education company is offering free showcases to a limited number of UK schools.
The Riot Act team designs and delivers bespoke interventions for young people and schools, using creativity and key behavioural change techniques.
The interventions promote key road safety, sustainable travel and air quality messages in ways that have a 'real emotional and educational impact'.
The Riot Act provides a complete project delivery service – including school engagement and recruitment, liaison with key stakeholders and a 'thorough and robust' evaluation process.
The free showcases, which will take place later in the year, will highlight the different interventions currently available for pupils ranging from KS1 to KS5, which are as follows:
Muffin, Don't Get Squished! (KS1) – Poetry, music and puppetry teaching the basics of being a safe pedestrian.

Alex & Jay on the Street (KS2) – The story of two friends who's perception of road safety changes as they get older and more independent and the traffic around their school gets busier.

Road Safety C.S.I (KS2) – Students explore a range of RTI's and interview suspects and witnesses to find out what the main contributing factors of the incident were.

How We Roll (KS2) A fun and informative show and workshop in which students create a campaign to encourage parents not to idle outside of school and move towards better modes of travel.

Deadly Distraction (KS3) – Promoting key things students can do to keep themselves and their mates safe as well as being able to identify and combat peer influence.

Sudden Impact (KS4) – Students explore perceptions of safety around the road, how incidents impact those around us and the importance of taking responsibility for our own safety.

My Dead Friends (KS5) – Older students learn about the importance of young driver and passenger safety and simple tactics to keep themselves and their mates safe when travelling in cars.
For more information contact Dan Hobson via email or on 07766 661920.
---