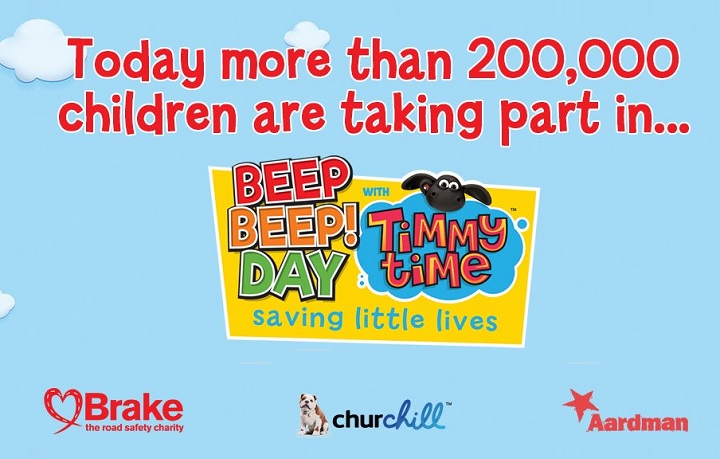 More than 200,000 young children across the country are today being taught important road safety messages, as part of a nationwide initiative.
Now in its 15th year, the 'Beep Beep! Day' initiative encourages nurseries, playgroups, infant schools, children's centres and childminders to host road safety related activities – including creating posters, experimenting with toy cars and singing road safety songs.
Organised by Brake, the initiative is also designed to raise awareness among parents and the wider community about the importance of protecting children on roads.
The latest Beep Beep! Day (20 Nov) has been organised to coincide with Road Safety Week (18-24 Nov) – with an estimated 220,000 children aged 2–7 years taking part.
The event has the support of Aardman Animations, who have allowed the animated character 'Timmy Time' to feature on the resources and activity packs.
Timmy is the smallest lamb in Shaun the Sheep's flock, and Brake says his youth and inexperience make him the perfect character to help very young children learn about road safety. 
Laura Burr, brand manager at Aardman, said: "It's great to be working with Brake. Learning about road safety is so important, and we hope that involving Timmy will not only help educate young children, but also add some fun."
Brake reveals 'true extent of child casualties'
Latest DfT figures show that 6,706 children were killed or injured while walking or cycling on roads in England in 2018. 
While this is nearly a 9% reduction from the previous year, when 7,332 children were killed or injured, it still means 18 child pedestrians or cyclists die or suffer injuries as a result of road crashes every day.
Brake's efforts to make roads safer for young children are being supported by the mother of a 17-month-old boy, who died after being hit by a car in a hotel car park.
Cheryl Yates is backing Brake's Beep Beep! Day in memory of her son Jackson, who died in August 2017. Since Jackson's death, Cheryl has set up her own charity, Blue for Jackson, to help raise awareness of road danger among parents and children.
Cheryl Yates said: "This is our second year donating Brake's Beep Beep! Day packs to local primary schools, which we started as a tribute to our son Jackson who was tragically killed when he was hit by a car in 2017. 
"The packs really stood out to us as they are aimed at 2–7 year olds and focus on teaching road safety to a younger audience, which we feel is sometimes overlooked. The activities and songs make learning about road dangers engaging and fun for the younger audience."
Dave Nichols, community engagement manager at Brake, said: "Every child has a right to walk and cycle in their community without fear from traffic. 
"As a charity that supports families who have lost loved ones in road crashes, we know only too well the heartache and devastation caused, especially when young children are involved. 
"The good news is that people like Cheryl are making a difference in their communities by stepping up for safe streets and turning their situation into something positive. We're grateful for her support and hope together we can help children, and their parents, keep everyone safe on the roads."
---