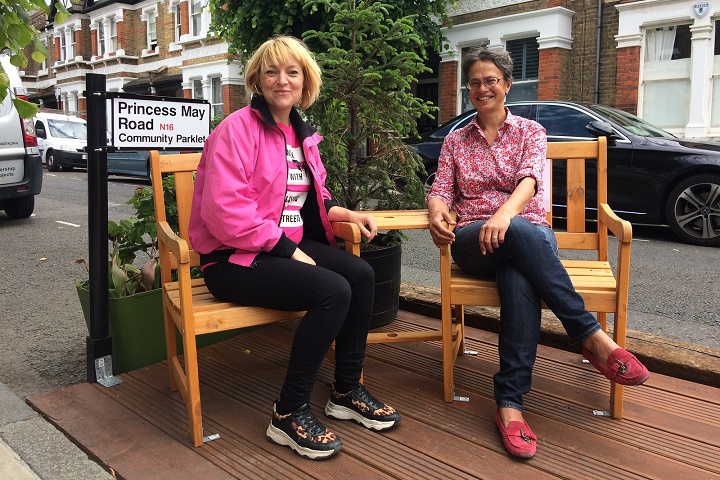 A new 'how to' guide has been launched to help people set up a pocket park – or 'parklet' – on their street.
A parklet is a small pavement extension, usually covering one or two car parking spaces, designed to add green open space to dense urban environments.
They provide space for people to sit, relax and enjoy the area around them – with other benefits including making streets more pleasant for walking and cycling.
Their popularity in the UK is increasing, since they were first introduced in Hackney in 2015.
Living Streets has teamed up with Brenda Puech – responsible for bringing parklets to Hackney – to create a new toolkit full of advice, from getting relevant permissions to promoting to local residents. 
The Parklets toolkit also includes thoughts from Brenda Puech and other high-profile supporters, including Chris Boardman MBE.
Tanya Braun, head of policy and communications at Living Streets, said: "By transforming kerbside space into parklets, we can create nicer, safer and more attractive streets which encourage people to spend time there – walking, cycling and socialising.
"Parklets provide places to stop and rest, meaning that people who might normally struggle to get around have the confidence to walk further than usual. They also provide a space for children to play and for residents to chat.
"The whole community can benefit from a place dominated by community spirit rather than cars and congestion."
---