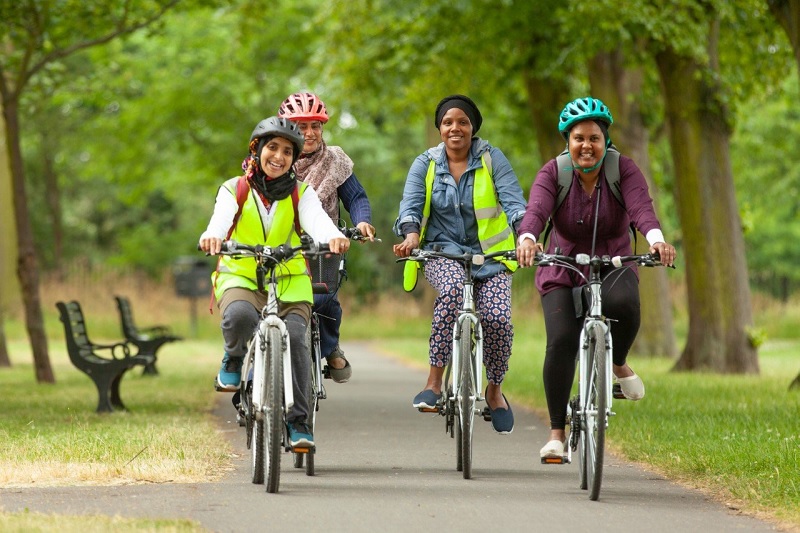 Community groups from across the Capital have been awarded funding to encourage people from all backgrounds to walk and cycle.
The funding, announced by Transport for London (TfL) on 26 November, will see 60 community and not-for-profit groups benefit from a share of more than £400,000.
It comes from the 'Walking and Cycling Grants London' scheme – which aims to 'address the barriers that prevent people from getting active' and help to make London a 'more sustainable, inclusive and healthy city'.
The winning projects target a range of traditionally underrepresented groups such as people with physical disabilities, refugees and asylum seekers, and children with Down's Syndrome.
TfL says the funding is designed to enable people from all backgrounds to feel confident while walking and cycling in London.
Will Norman, London's walking and cycling commissioner, said: "There are so many benefits to walking and cycling from keeping fit to improving wellbeing and we want everyone in London to experience these benefits regardless of their age, ethnicity or physical or mental health.
"We're looking forward to seeing the results of these inspirational projects, which are bound to encourage even more Londoners from diverse backgrounds to travel more actively around the Capital."
Work to begin on west London cycle route
In another boost to active travel in the Capital, TfL has announced it will begin construction work at Kew Bridge on 12 December – in preparation for a major project to upgrade pedestrian crossings and create new segregated cycle lanes in west London.
The new roads and junctions will form part of a 7km cycle route between Brentford and Kensington Olympia, subject to final approvals from the London Boroughs of Hounslow and Hammersmith & Fulham.
TfL will be starting construction work over the Christmas period to take advantage of reduced traffic on the roads.
Nick Fairholme, TfL's director of project and programme delivery, said: "I'd like to thank people in advance for their patience and would ask people to plan ahead and allow extra time for their journeys whilst this vital construction work takes place."
'Key transport hubs' to receive new Santander Cycles
TfL has also announced plans to install 105 new Santander Cycles docking points at train stations in central London by the end of the year.
The new docking stations, which will be installed at Paddington, Blackfriars and Victoria stations, as well as near to Queensway Tube station, are designed to boost connectivity between different modes of transport.
Customers who use the docking station along Tooley Street near London Bridge station, one of the most popular on the scheme, will also benefit from an expansion of ten extra docking points for cycles.
Will Norman, London's walking and cycling commissioner, said: "Last year saw a record number of cycling journeys across London, and our Santander Cycles continue to be a huge success.
"Having more docking stations around key transport hubs will make it easier for people to cycle as part of their everyday routine, whether commuters heading to and from the office, or visitors travelling around our city."
Meanwhile, TfL is giving Londoners 24 hours of free access to Santander Cycles throughout December – as part of plans to encourage people to get active during the festive period.
The free access, which is broken down into 30 minute journeys, can be unlocked by entering the code 'SCXMAS19' at the terminal, online or using the app.
Helen Sharp, head of cycle hire business development at TfL, said: "Cycling has multiple benefits – from keeping fit and improving wellbeing to getting around the capital in an easy, green and enjoyable way."
---