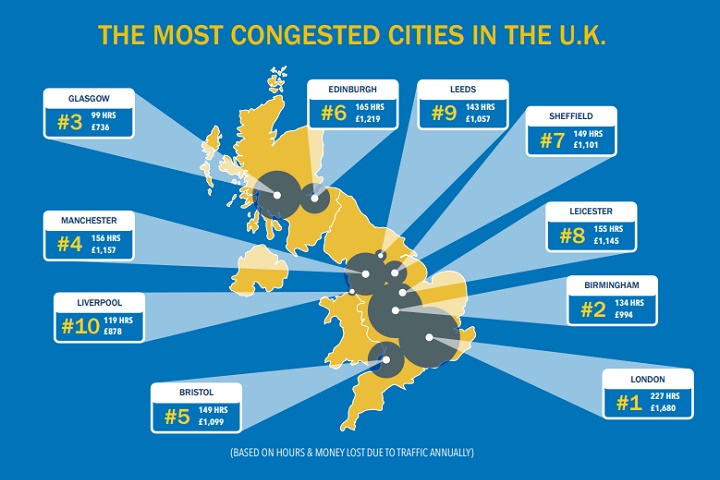 Local authorities have been urged to adapt to new technologies, on the back of data showing drivers in the UK lost an average of 178 hours due to congestion in 2018.
The INRIX Global Traffic Scorecard, published on 11 February, ranks the impact of traffic congestion in more than 200 cities across 38 countries worldwide – the largest study of its kind.
The 2018 scorecard shows 178 hours were lost due to congestion in 2018, costing UK drivers an average of £1,317 each.
London was ranked as the UK's most congested city, with drivers in the Capital losing 227 hours to congestion. Birmingham followed in second, with Glasgow third.
Not only is London ranked number one in the UK, the annual scorecard places it third in Europe (behind Moscow and Istanbul) and sixth in the world.

Moreover, six of the UK's 10 most congested roads in 2018 were located in London – including the top three.
The accolade of most congested road fell to the A406, North Circular Road, from Chiswick Roundabout to Hanger Lane, on which drivers were delayed by 15 mins a day – equating to 61 hours in 2018.
Trevor Reed, transportation analyst at INRIX, said: "Congestion costs Brits billions of pounds each year. Unaddressed, it will continue to have serious consequences for national and local economies, businesses and citizens in the years to come.
"In order to avoid traffic congestion becoming a further drain on our economy, it is increasingly obvious that authorities need to adapt. With the help of new and innovative intelligent transportation solutions, we can begin to tackle the mobility issues we face today."
---