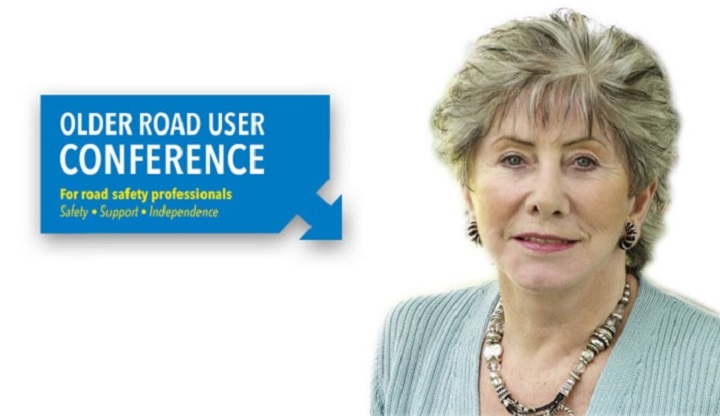 Respected presenter and broadcaster Valerie Singleton OBE will deliver the opening address at the 2019 Older Road User Conference.
Now in its second year, the one-day conference is designed to help road safety professionals keep older people safe on the roads for longer.
The conference is once again being jointly organised by Road Safety GB in partnership with New View Consultants and the RAC Foundation – and in association with the headline sponsor Satsafe.
It is being held at the Royal Automobile Club's prestigious Pall Mall Clubhouse in central London on 24 September 2019.
Delegate registration opened in January – with Road Safety GB and Academy members quickly snapping up the early bird tickets and more than 50 people already registered to attend.
The agenda is currently under development, with Valerie Singleton OBE confirmed to deliver the opening keynote address.
Valerie became a household name presenting a number of much-loved BBC television programmes, most notably Blue Peter from 1962-72, and the BBC Radio 4 PM programme.
More recently, she became involved with road safety as presenter of Still Safe To Drive, a series of three videos for older drivers produced by GEM Motor Assist, which cover: the process of ageing; tips for staying safe to drive for as long as possible; and having the conversation about giving up driving.
Valerie's life's work has been honoured twice, firstly by an appearance on 'This is Your Life', and then being bestowed with an OBE in 1994 for services to children's television.
Valerie Singleton follows in the footsteps of journalist, television presenter and Labour Party Peer, Dame Joan Bakewell CBE, who delivered the opening address at the inaugural Older Road User Conference in September 2018.
Delegate registration/more information
Delegate registration for the conference is now open, with places available at £160 plus VAT for Road Safety GB & Academy members.
The cost for attendees from the public sector, third sector and academia is £185 plus VAT and for other attendees £235 plus VAT. The delegate fee covers all refreshments, including lunch.
Click here to book a place to attend, or for more information contact Sally Bartrum (delegate registration) or Nick Rawlings (agenda/speakers etc) on 01379 650112.
---