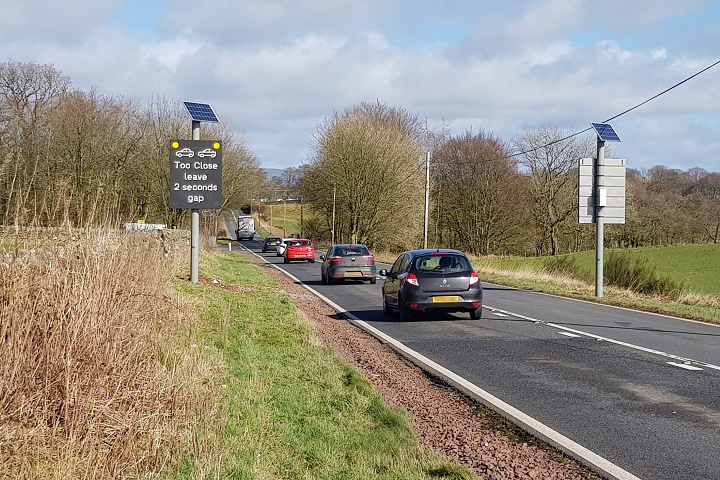 Motorists caught speeding or tailgating on a prominent road in Scotland will receive warning alerts, as part of a new scheme to deter 'potentially life-threatening behaviour'.
Vehicle activated signs (VAS) have been installed along the A701 as part of the scheme – carried out by Scotland TranServ and Clearview Intelligence on behalf of Transport Scotland.
Drivers travelling too close to the vehicle ahead will be warned to leave a two second gap – while those speeding will be made aware of the speed limit for their vehicle, along with a message to slow down.
In incidents where a vehicle is both speeding and tailgating, the latter message will take precedence.
Vincent Tait, Scotland TranServ's strategic road safety manager, said: "We continue to work effectively with our supply chain partners, developing innovative road safety solutions that deliver real results and save real lives.
"Around the world authorities recognise the driver epidemic that is 'close following'. This solution hits drivers directly, behind the wheel as they engage in this potentially life-threatening behaviour."
The A701 scheme was commissioned following a review which showed that speeding was a factor in 73% of collisions along the route – above the national average.
It follows a similar initiative on the A75, installed in March 2017, which first year monitoring shows led to a 31% reduction in collisions.
Chris Keenan, Clearview Intelligence's general manager for Scotland, said: "Following a review of accidents over a five-year period, it was highlighted that tailgating and speeding were responsible for most of the incidents along this route.
"Through a single road safety initiative, we aim to tackle both of those problems and issue warnings relevant to the behaviour of the driver and their vehicle classification."
---