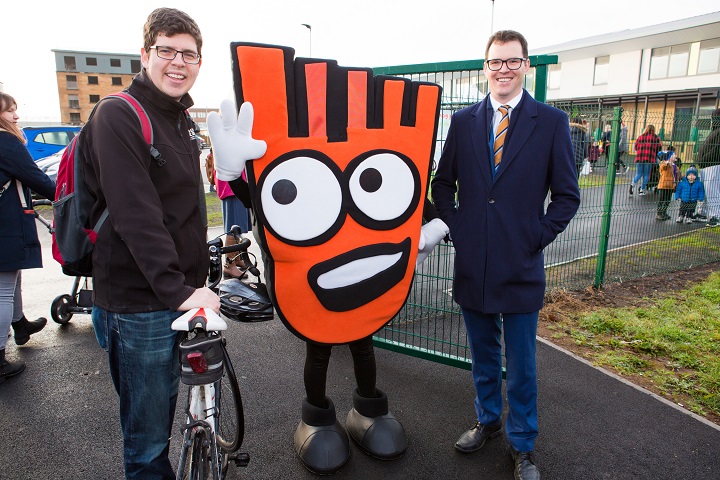 A UK-wide walk to school programme, which attracts more than 100,000 participants each year, has been translated and published in Welsh.
Organised by Living Streets, 'WOW' is a year-round challenge which rewards those who walk to school at least once a week with collectable badges.

Pupils can also record how they get to school on the 'WOW Travel Tracker', while teachers receive monthly curriculum-aligned learning resources and assembly presentations to help children develop 'lifelong healthy habits'.

Every year more than 100,000 children take part in the programme, which Living Streets says can increase walking rates at participating schools by 23% – with a corresponding drop in car use.
Living Streets has now made its suite of resources available in dual-language, as part of efforts to help pupils in Wales benefit from getting active on the journey to school.
Lee Waters, Wales' deputy minister for economy and transport, said: "Schemes such as this are a step in the right direction in improving the health of our nation, improving air quality and reducing the number of cars on our roads.
"I am pleased to see the initiative spreading into Wales and encourage more schools to contact Living Streets and sign up."
Rhiannon Hardiman, Wales manager for Living Streets, said: "Walking to school is an easy way for children to fit more activity into their day. More children walking to school means fewer cars around the school gates – making them safer and cleaner places.  
"WOW – our year-round walk to school challenge has increased walk to school rates in over 2,000 schools across the UK.   
"It's simple to run and pupils love to take part. Just a few minutes of a teacher's day is needed to make a big difference. We can't wait to help more pupils and schools across Wales walk to school."
---