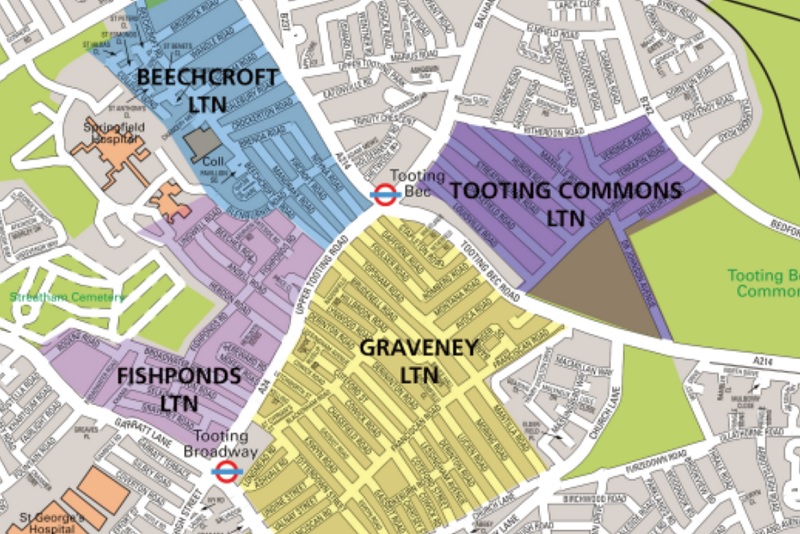 A scheme to make residential streets more bike and pedestrian friendly in Wandsworth has been suspended over concerns about emergency access and traffic flow.
The Low Traffic Neighbourhoods (LTNs) were introduced in August as part of Wandsworth Council's response to Covid-19.
They are designed to encourage people to use more sustainable forms of transport, by deterring rat run traffic.
However an initial review has identified concerns with emergency access and traffic flows – which according to the council is compounded by additional changes that TfL is making to red route roads in the borough.
These include 'significant interventions' on the A24 (Balham High Road to Tooting High Street and beyond) such as moving bus stops, installing cycle lane segregation, banning turns at a number of junctions and removing parking.
Wandsworth admits the scale of these A24 changes, coinciding with the council's efforts to establish LTNs on residential streets, has caused confusion and long traffic queues.
Cllr John Locker, Wandsworth Council's cabinet member for strategic planning and transportation, said: "We have monitored the traffic flows and listened to feedback from residents and businesses. 
"We have also spoken to our partners including local hospitals and key services to hear the impact on them.
"It is clear that the LTNs are not delivering the benefits we want to see. In fact it looks like the combination of changes in areas like Tooting, where TfL are making changes to the main high road, are unfortunately having the opposite effect. 
"That is why we have taken the difficult decision to pause and re-think about how we can achieve our objective of delivering healthier, safer streets."
Take time to consult on and assess schemes – RAC
The RAC says the speed at which low traffic initiatives have been brought in – as a result of the Covid-19 pandemic – is the reason why some are causing problems for residents, drivers and businesses.
The motoring organisation adds that councils should be actively looking at impact assessments and monitoring schemes to ensure that there are no unintended consequences – such as increased congestion and displaced traffic.
Nicholas Lyes, RAC head of roads policy, said: "Nobody can deny that low traffic neighbourhoods are well-intentioned and there are doubtless some well-designed schemes which have widespread local support due to the valuable benefits they are delivering. 
"Unfortunately, it also seems there are some schemes that aren't working well and are causing problems for residents, drivers and businesses.
"Rather than just ignoring these issues, authorities should be willing to listen to everyone affected and make changes to rectify them. 
"The fact that the Government gave authorities just weeks to introduce schemes for the reallocation of road space is a reason why some schemes aren't working. 
"Councils were told they did not need to consult – yet if they didn't take the cash on offer, they risked missing out on it altogether. 
"As the lockdown has eased, councils now have an opportunity to consult properly and we believe the Government should require that they do so for new schemes. This is important so local authorities can understand the impact that schemes will have on all road users and residents, and can improve the design of any new scheme accordingly."