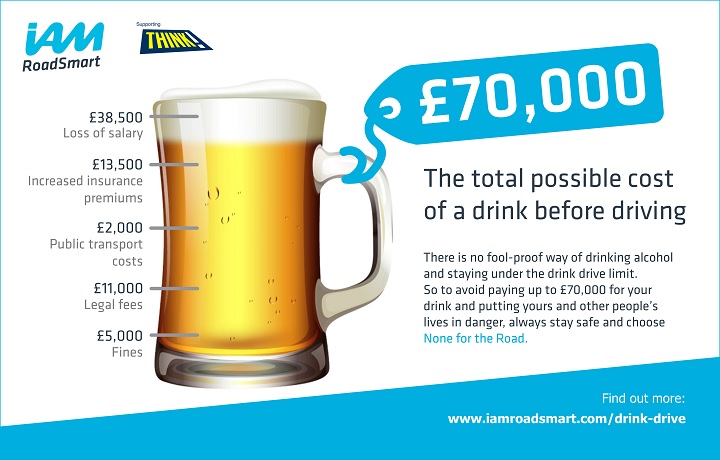 IAM RoadSmart is warning motorists of the severe financial penalty they could face as the consequence of a drink drive conviction.
The charity has calculated that the personal financial cost of drink driving could be as high as £70,000 when taking into account fines, legal fees, higher car insurance premiums, alternative transport costs and potential loss of earnings following conviction.
Neil Greig, IAM RoadSmart director of policy and research, said: "In the run up to Christmas this year, many people's drinking habits will have changed as a result of the coronavirus. 
"So, whether you're raising a glass for the festive season at home or, where you're able, in a restaurant or pub, it's important to remember that an extra drink comes with a huge hidden cost if it pushes you over the limit."
Baroness Vere, roads minister, said: "Drink driving kills, so during the festive season don't be tempted to have a drink before getting behind the wheel – it's irresponsible and incredibly dangerous. 
"We are working tirelessly, through schemes like our award winning THINK! campaign, to tackle attitudes and behaviours that could lead to people drink driving, and we continue to invest in policing and enforcement on our roads."
Earlier this month, police chiefs warned that anyone getting behind the wheel 'after a festive drink or two' faces the prospect of ending up behind bars this Christmas.
Throughout December, police forces will target drink and drug drivers as part of an annual Christmas operation led by the National Police Chiefs' Council (NPCC).
During last year's campaign, which took place over a two-week period, more than 30,000 breath tests were taken – of which over 3,231 motorists failed or refused to provide a sample. In addition, 1,175 drivers failed a roadside drug test.
---