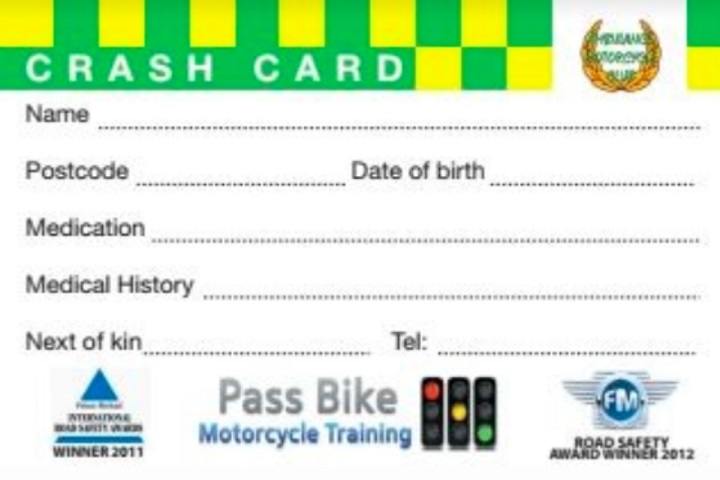 Road Safety Wales is encouraging all powered two wheeler riders to carry a CRASH card, in order to improve their chances of survival in the event of a collision.
Launched in 2015, CRASH cards contain important information – including medical history and details of any medication currently being taken – for paramedics and/or the first person at the scene of a collision. There is also space to include the name and contact number of next of kin.
Motorcyclists are given a green dot to place on the right hand corner of their visor/helmet to alert emergency responders to the fact they are carrying the card.
The Road Safety Wales website says: "Hopefully you'll never need to use a CRASH card, but if the worst happens a medical professional will be able to see the green dot and can look for the card inside the helmet lining.
"The details that you write on the card could provide vital information for attending ambulance crews, saving valuable time and helping treatment, especially if you're unconscious or unable to communicate.
"The green dot sticker is safe for use on any helmet and won't cause any damage; the card – which can be tucked inside the helmet lining – asks for your details and any allergies, medication, or medical history which could impact on your treatment."
The CRASH card programme is available in England, Wales, Scotland and Northern Ireland – and globally it is estimated there are more than 570,000 cards in existence.
CRASH cards are provided free of charge to anyone who uses roads in Wales. To enquire, email Road Safety Wales.
---