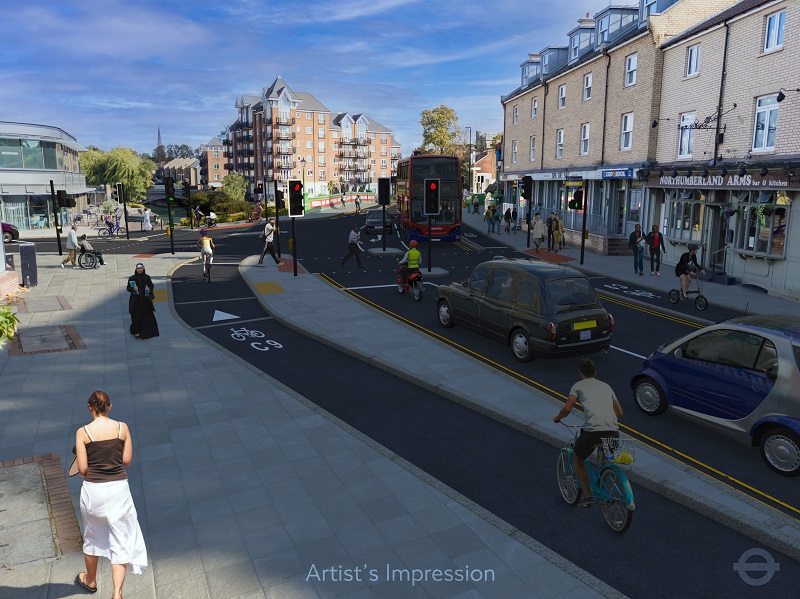 TfL has unveiled plans for a major Cycleway extension in West London, which will also feature improvements for pedestrians.
It is hoped the planned changes between Brentford and Hounslow will make thousands of walking and cycling journeys each week safer and easier – and enable more people to use healthier and more sustainable forms of travel.
The plans, which form part of a series of infrastructure upgrades along Cycleway 9, centre around 4.1km of new protected cycle lanes along London Road.
They also include:
A new cycle connection to Brentford Dock and the Grand Union Canal
A new signalised junction with pedestrian crossings at The Ham
Improved pedestrian crossings on High Street in Hounslow
Improved pedestrian crossings and cycle connections to and from Spur Road and Twickenham Road
New trees and other improvements to make the area look and feel more pleasant, while also helping to adapt to climate change
The plans have been put out for public consultation until Wednesday 16 February 2022.
Will Norman, London's walking and cycling commissioner, said: "We've seen a massive increase in people walking and cycling in the past few years and we are working closely with boroughs like Hounslow and Hammersmith & Fulham to help transform roads and make sure there is enough space for people to walk and cycle safely.
"If TfL secures a long-term financial deal with the Government which allows this cycleway extension to go ahead, pedestrians and cyclists could see huge benefits from the new connections to the Brentford Dock and Grand Union Canal.
"Local residents could also be able to enjoy the other improvements, including new crossings and the planting of new trees, which would improve the look and feel of the area. I urge everyone to have their say in this new consultation and share their views with us."
---