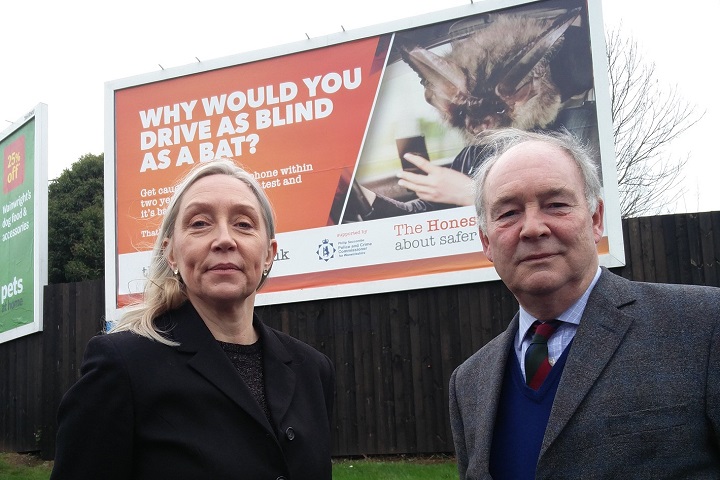 A campaign in Warwickshire is using animal head imagery to highlight to young drivers the dangers of using a mobile phone at the wheel.
The graphics, which have become synonymous with The Honest Truth in recent years, are being displayed on billboards across the county this month. 
The artwork aims to challenge the behaviours of young drivers – highlighting that using a mobile phone 'makes you blind'.
One billboard reads: "Why would you drive as blind as a bat?"
The campaign encourages young drivers to put mobile devices in a bag or glove box to avoid temptation.
Annette Lloyd, head of The Honest Truth, said: "The campaign has been refined with input from behavioural research scientists to communicate messages that are likely to resonate specifically with young drivers. 
"The strong visual image to grab attention linking to the notion that using a mobile phone makes you blind – if you were asked to close your eyes for three seconds whilst driving along would you?"
The campaign has been funded by Philip Seccombe, the Warwickshire Police and Crime Commissioner.
In October 2019, Mr Seccombe and The Honest Truth launched an initiative to help approved driving instructors deliver safety messages to pupils during lessons.
The initiative aims to ensure young people understand how to be a safe driver from the very outset of their motoring lives.
Mr Seccombe said: "This is the latest in a number of road safety initiatives I am funding to try and make a real difference and reduce casualty numbers on our county's roads.  
"Working with The Honest Truth I want to make young drivers aware of the risks when they start to drive alone. 
"By learning about The Honest Truth, new drivers are given the confidence to challenge inappropriate behaviour by passengers and make the small changes necessary to stay safe."
---