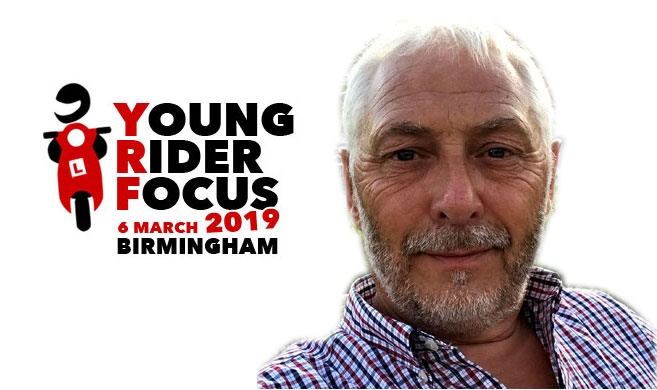 A speaker at the inaugural Young Rider Focus conference will challenge road safety officers to place more emphasis on the safety of young powered two wheeler riders.
Organised by Road Safety GB and FirstBike, and the team behind the established and well-attended Young Driver Focus conference, Young Rider Focus will be held in Birmingham on 6 March 2019.
The event was conceived following a survey among road safety professionals which confirmed an appetite for a conference focusing on the key issues faced by 16-25 year-old P2W riders.
The conference committee is in the early stages of planning the programme, with five confirmed speakers to date – one of whom is Kevin Wilcox, road safety officer at Staffordshire County Council.
Since joining Staffordshire's road safety team in 2004, Kevin has introduced many successful motorcycle-related initiatives.
He project managed a £850k DfT motorcycle project in 2009-2011 and received the Prince Michael Award for International Road Safety in 2010 on behalf of Staffordshire County Council for its Motorcycle Road Safety Strategy.
In recent years Kevin has focused more on young rider safety, introducing many new schemes targeting young rider casualty reduction.
Kevin's presentation will question why the default for most road safety professionals is to focus on young drivers aged 16-25 years, with little thought given to young riders.
He will delve into analysis, both locally and nationally, to suggest that many are focusing too much on the wrong target audience and should be concentrating on reducing young rider casualties.
Young Rider Focus
Delegate registration for Young Rider Focus is now open – with tickets priced at £125 for Road Safety GB/Academy members, £150 for attendees from public sector, third sector, academia and ADIs, and £175 (all prices plus VAT) for all other attendees.
In addition, there is the option to purchase a joint ticket covering Young Rider Focus and Young Driver Focus 2019, which takes place at the RAC Club, Pall Mall, London on 1 May 2019.
Click here to register to attend or alternatively for more information contact Sally Bartrum (delegate registration) or Nick Rawlings (conference agenda) on 01379 650112.
For more information about sponsoring and/or exhibiting at the event contact either Richard Storrs on 08451 308 853 or Rachael Butler on 07974 186445.
---