Get Ready for the Road Booklet 1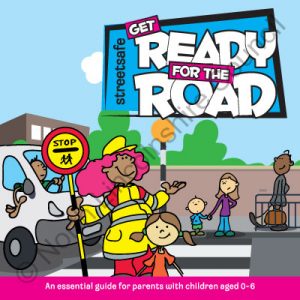 Get Ready for the Road Booklets 1 and 2 are guides to help parents safely use the roads with their children. Original and attractive artwork enhances the key messages to parents. The design gives information in a clear and concise manner and provides talking points for parents looking at the booklets with their children. The booklets were produced to replace the DfT guides for parents, but are more interactive.
The design and content has been extensively researched and tested with parents to ensure the information is clear and accessible. The booklets are bright with a positive approach to help parents keep their children safe and, when the time is right, give them the information and skills they need to prepare them for using the roads.
Book 1 is aimed at parents with children 0 to 6 years old and covers walking on the pavement with children, using different types of crossings and in-car safety.
Book 2 is for parents with children between 7yrs and 10yrs old and includes walking safely, being seen, teaching children to cross the road independently, safe route planning, junctions, how accidents happen, safe cycling and in-car safety. Many of the topics are interactive to allow parents to talk over the key issues with their children whilst looking at the booklet.
Click here to download the price list
(All prices are subject to change)
For further information please contact:
Richard Hall
North Lincolnshire Council
T: 01724 297346
E: richard.hall@northlincs.gov.uk or roadsafety@northlincs.gov.uk
---