Streetsafe Activity Books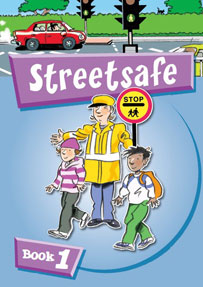 Streetsafe Activity Books 1 and 2 aim to help children develop an understanding of safe road behaviour. Attractive artwork and design enhance the well researched key messages and positive approach to discovering how to stay safe. Pages have purposefully been kept simple and uncluttered with a safety related activity appropriate for the age group on each page.
Book one focuses on pedestrian safety and can be used on its own or as part of pedestrian skills training. Aimed at Year 3 or 4 it covers the Green Cross Code, using different types of crossing and being seen as well as a range of other road safety issues including in-car safety and using public transport.
Book two, aimed at year 5 or 6, has a cycling theme and again can be used on its own or to accompany a cycling skills programme. An activity on each bright, spacious page and artwork that has been drawn by the same artist, but is more appropriate for this age group, means it complements book 1. The importance of cycle helmets and bike maintenance are covered along with developing risk and hazard awareness. Other topics include bus travel, the use of seat belts and pedestrian behaviour allowing this resource to be used for transition work in Year 6.
Click here to download price list.
For further information please contact:
Richard Hall
North Lincolnshire Council
01724 297346
richard.hall@northlincs.gov.uk
---