Walk to school guide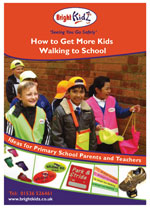 How To Get More Kids Walking to School' is aimed at primary school teachers and parents who are interested in promoting walking to school or who are developing a School Travel Plan.
It gives practical information on a range of walk to school initiatives such as Walking Bus, Park & Stride and national schemes such as Walk On Wednesday.
Click here for a PDF version or go to www.brightkidz.co.uk.
A limited number of free printed copies are available from Safe Kids Walking, tel: 01536 526461.
---