School Crossing Patrol Service Guidelines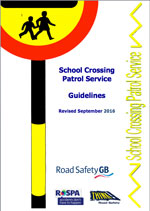 These Guidelines have been compiled based on existing legislation, best practice, health and safety and case law.
The Guidelines comprise the following three sections:
• Guidelines for Managing the Service
• Criteria for Assessing School Crossing Patrol Sites
• Appendices: Sample Documents
Using the Guidelines
The School Crossing Patrol (SCP) service is a non-statutory function and these Guidelines are not intended to be prescriptive. They highlight issues that should be considered and outline advantages and disadvantages of adopting particular measures to allow managers to make their own informed decisions suitable to their local circumstances and policies.
Authorities providing the service should decide how best to apply the Guidelines and the criteria for assessing SCP sites. Managers should ensure their authority's health and safety adviser and insurance officer are familiar with these Guidelines.
To obtain the Guidelines
The Guidelines can be supplied in PDF format at a cost of £75 plus VAT (to non-Road Safety GB members). To obtain a copy please contact Sally Bartrum on 01379 650112.
Please note:  purchase orders need to be made out to RSGB Limited.
---