Presentation: Cycling for All
This session will take place in the form of a live presentation, at 11am on Thursday 17 June. Click here to register. A recording of the session will also be made available.
---
Fatima Ahmed, Road Safety Manager, London Borough of Hounslow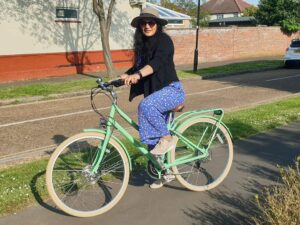 Fatima Ahmed is part of Cycling UK's 100 Women in Cycling 2019 list for her instrumental role in getting more people on bikes in the London Borough of Hounslow.
Fatima thinks of cycling as being part of both her personal and professional life. She said: "I love the freedom cycling gives me and the healthier, cleaner option it represents when travelling around London. Cycling keeps me fit and removes all my stress to have a more positive, fun outlook on life."
She works for the London Borough of Hounslow where she is responsible for cycle training and promotion - "the best job in the world!!"
Fatima only started cycling in 2016 and now cycles everywhere for both commuting and social rides. It's no coincidence that at the same time Fatima's cycling life began, the London Borough of Hounslow (LBH) also saw a significant increase in the number of participants to their Adult Cycle training sessions.
Back in 2016/17 there were just under 100 adults attending, but under Fatima's watch participants have jumped to 1,686 in 2019.
Encouragingly, over 80% the participants are women and from ethnic minority backgrounds, with a huge age range from 16 – 82. LBH is doing everything they can to create an environment for inclusive cycling. The Borough has now invested in an Inclusive Cycling Hub running every Saturday with their own fleet of adapted bikes. Additionally Hounslow now has four cycling hubs in the Borough, bringing cycling into community spaces and taking away barriers.