Presentation: Great things happen when people cycle
As we emerge from the pandemic the determination to 'build back better' is right up there on the political agenda. So too is ongoing public health and activity levels. Many new cyclists have taken to the roads and cycle paths since the first lockdown, so how can we capitalise on this and build cycling into everyone's routine?
One answer is to nurture skilful and considerate cycling, both when sharing the road and busy cycling infrastructure. Gaining these skills through training develops confidence to ride more and builds a positive attitude towards cycling.
---
Michael Corden, Head of Training, Cycle Confident and BikeRight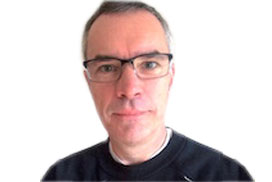 Michael is responsible for training and development at Cycle Confident and BikeRight. Cycle Confident works in partnership with 14 London Boroughs to deliver a range of cycle training solutions. BikeRight delivers Bikeability training in Merseyside, Manchester and the West Midlands.
Michael sits on the Bikeability Trust Effectiveness Advisory Group and is currently working with the Trust on a project aiming to improve driver cycle awareness by piloting practical cycle training for ADIs and online learning resources for ADIs and their learner drivers.