Putting the 'Rider' in 'Rider Safety'
As the global advocate for motorcycling and the recognised governing body of motorcycle sport, the Federation Internationale de Motocyclisme (FIM) is keen to ensure that motorcycling will be seen as the safe and sustainable choice across the world for generations to come.
As part of this, FIM has worked with various global road safety organisations to try and spread best practice for motorcycle safety across the globe.
In this presentation, the FIM's Public Affairs Manager, Chris Hodder, will give a brief overview of that work and explain why the FIM puts so much emphasis on ensuring that vehicles users are at the centre of road safety policy.
---
Christopher Hodder, Public Affairs Manager, FIM Fédération Internationale de Motocyclisme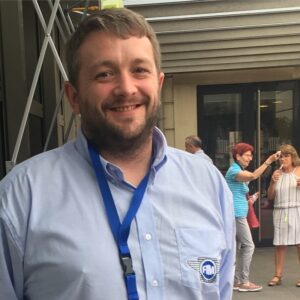 Chris Hodder has spent over a decade working in public affairs, mostly on motorcycling.
He initially worked for the British Motorcyclists Federation for 7 years and then worked as a consultant to the Motor Cycle Industry Association for another 6 years.
After a brief period out of the sector, he took over as the Public Affairs Manager for the Federation Internationale de Motocyclisme in September 2020 following a decade as a volunteer advising on road safety policy there.
Originally from Exeter, Devon, he lives in London with his Brazilian wife, two daughters and very small dog and rides his Harley much less than he would like.