Iain Temperton, Traject Road Safety Specialist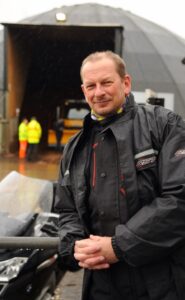 Iain's road safety journey began in 1984 when he started as a volunteer motorcycle instructor with the RAC/ACU training scheme. He was involved at the very beginning of the Compulsory Basic Training regime and has instructed ever since, currently holding a RoSPA Diploma in Advanced Rider Training and registration as a DVSA ERS trainer.
As team leader for Norfolk County Council's road safety function, Iain identified the need to engage a full time road safety officer specifically to address PTW issues, with the team developing and delivering a number of high profile interventions. He has also worked in partnership with the Police College and TSO to produce online Roadcraft training modules.
Bikes are everyday transport for Iain, with a choice of three in the garage including a 125 scooter and an aged SV650. As a freelance road safety specialist Iain is still able to fit in some rider training, which in his own words "really helps to keep me sane".