'Loss of Control' causes on a PTW
The presentation covers the likely causes of 'loss of control' whilst riding a PTW and how they can be avoided. This is a stated contributory factor in 10% of RTCs, with poor control a likely factor in many others.
Being able to avoid hazards if possible is a key skill, particularly for a PTW rider. Modern large capacity PTW's have a power to weight ratio approaching that of a Formula One car, but none of the protection, so require a considerable level of skill to ride safely.
---
Mike Abbott MBA, Advanced Rider Coaching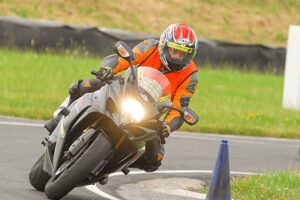 Mike Abbott MBA is a RoSPA Advanced Motorcycle Instructor, a DVSA Post Test Trainer, an ACU Level 2 Road Race Coach and former BikeSafe assessor for the Lincs Police.
He is a time-served automotive engineer and test driver (Ford) and has been riding PTW's for over 50 years on three continents, road racing competitively until 2005.
He devised 'SharpRider tm' with Derbys Road Safety Partnership which is now a national scheme innovatively delivering the DVSA Enhanced Rider Scheme, and 'Twang tm' for Safer Roads South Yorkshire for younger riders.
He owns the British Superbike School which is celebrating its 10 anniversary this year, launched with help from Notts CC and the South Yorkshire Police.