Lynda Chalker Award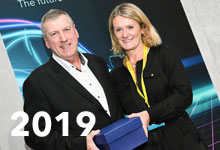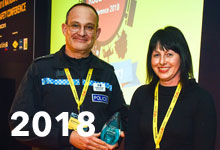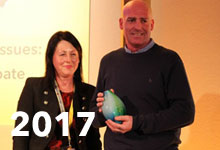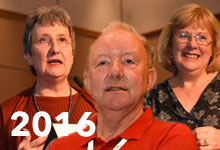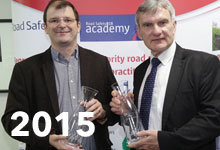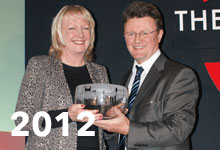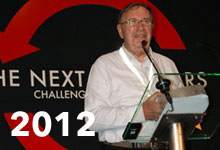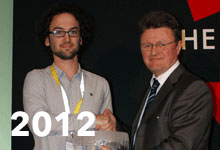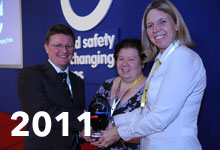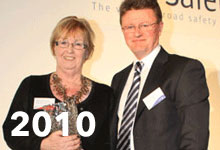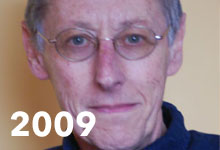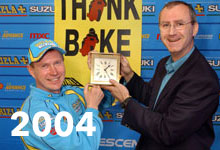 ---
The Lynda Chalker Award was presented by Road Safety GB to an individual or organisation who has contributed significantly to road safety in the United Kingdom until 2019.
Lynda Chalker (now the Baroness Chalker of Wallasey), who was transport minister in the mid-1980s, presented LARSOA (as Road Safety GB was previously known) with a carriage clock to be used for the Award when she moved to a new post in overseas development. Recipients kept the carriage clock for a year and also received a replica of the clock as a permanent acknowledgement of their achievements.
When Road Safety GB re-branded in 2009 the award changed to an engraved glass sculpture from the National Glass Centre. The first recipient of this new Lynda Chalker Award was Robert Gifford.
In November 2010 Sheila Ormerod received the award in recognition of her outstanding contribution to road safety. Sheila was presented with a locally made and engraved glass vase at the association's national conference held in Kenilworth.
The 2011 award was presented to Angela Lee and Amanda Woodward on behalf of the Bicycle Helmet Initiative Trust.
In 2012, three awards were presented to: Mike McAdam for his campaigning to empower young people not to drink and drive; Dawn Boyfield for her contribution to the development of the Children's Traffic Club and other road safety resources; and Brian Hogarth for his contribution to road safety in a career which spanned more than 50 years.
There were no awards made in 2013 or 2014, but in 2015 two experienced and long serving practitioners – Ian Edwards and Graham Compton – both received a Lynda Chalker Award for their contributions to road safety.
In 2016, a three awards were made to experienced and long-serving practitioners: Rob Tillier, founder of Accelerate Driver Training, received the award in recognition of his efforts to improve the safety of young and novice drivers; Linda Kennedy, who was a local authority road safety professional in the north east of England for 45 years, having spent 33 years with Northumberland and 12 years with Durham County Council; and Tina Housego who became road safety officer at Bracknell Forest Council in 2008, following a career in the Metropolitan Police Service.
In 2017 the award went to G's Fresh, one of the UK's largest vegetable growers, for the company's outstanding commitment to improve the safety of its employees while driving for work. The award was presented to Gary Cullen, G's Fresh senior safety and risk advisor.
In 2018, the award was presented to Sergeant Rob Heard, founder and chairperson of the Older Drivers Forum. Rob Heard has been in the police force for 29 years and is currently the road safety sergeant for Hampshire and Thames Valley Police. He is an advanced police car driver and motorcyclist and leads the Hampshire and Thames Valley force's VIP escort team.
In 2019, Bill Smith, senior engineer at Scotland TranServ, received the accolade – recognising his 40 years' career in road safety.
---
Award Winners
2019 – Bill Smith
2018 – Sergeant Rob Heard
2017 – G's Fresh (Gary Cullen)
2016 – Rob Tillier, Linda Kennedy & Tina Housego
2015 – Ian Edwards & Graham Compton
2012 – Mike McAdam, Dawn Boyfield & Brian Hogarth
2011 – Bicycle Helmet Initiative Trust
2010 – Sheila Ormerod
2009 – Robert Gifford
2007 – Derek Thrush
2006 – Vicki Stone MBE
2004 – John Reynolds
2003 – Colin Pettener & John Moss
2002 – Neil B Ellison & Jeanne Breen
2001 – Institute of Advanced Motorists (IAM)
2000 – Wheatfield JM School, St Albans; Key Med; Devon County Council Road Safety Unit and Devon and Cornwall Constabulary;
1998/99 – Guild of Experienced Motorists (GEM)
1997/99 – Peter Hemming
1995/96 – Tony Rosser
1993/94 – Valerie Laidler
1991/92 – Peter J Bottomley MP
1990/91 – Robert J Pearson
1989/90 – Stephen Day MP
1988/89 – Alex Robertson
1987/88 – Radio Clyde
1986/87 – Radio Clyde
1985/86 – Radio Clyde
---