Teddy Resources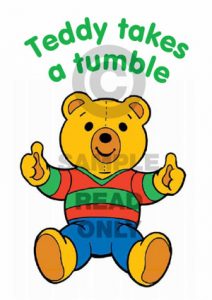 The Teddy Takes a Tumble story is aimed at children up to seven years and their parents, for nursery and pre school groups and details why the use of a child seat is so important in protecting children when they are placed in cars for travel by using the 'Teddy' character along with his owner and friend 'Billy'.
The Teddy Takes a Walk story continues the theme of child safety but as a pedestrian with 'Teddy' and 'Billy' taking a walk from home to school, highlighting some of the issues for discussion by parents and carers on any similar journey.
The Teddy Storysack has now been discontinued.
Teddy Takes a Tumble
Click here to download sample booklet (PDF)
Teddy Takes a Walk
Click here to download sample booklet (PDF)
To order
Click here to download price list (June 2022)
Click here to download carriage charges (November 2021)
For more information contact Jean Hunt, Honorary Treasurer of the Road Safety GB North West, via email or on 07583 896264.
---