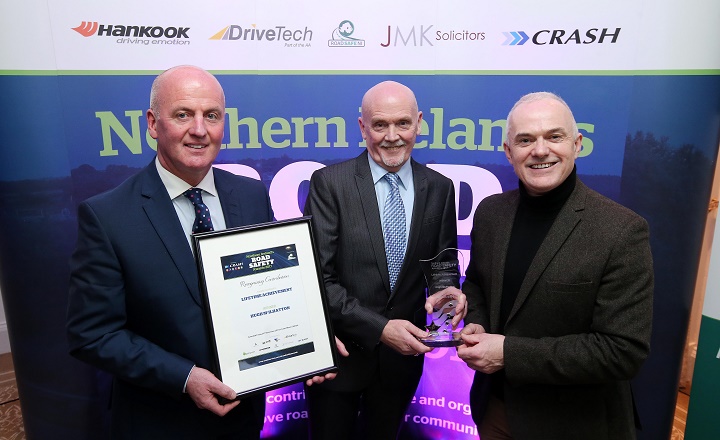 Individuals, organisations and interventions from across Northern Ireland have seen their efforts to improve road safety recognised at the Northern Ireland Road Safety Awards 2017.
The awards – sponsored by accident management company CRASH Services – were presented at a ceremony on 24 November.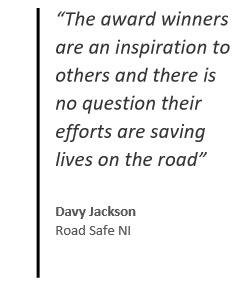 Now in their third year, the awards are organised by Road Safe NI who described the winning entries as "an inspiration to others" which "stood out for their commitment over a long period of time".
One of the highlights of the awards ceremony was the presentation of a 'Lifetime Achievement Award' to Hugh McIIhatton (pictured centre) from Disability Action.
Disability Action works to ensure that people with disabilities attain their full rights as citizens, by supporting inclusion, influencing Government policy and changing attitudes in partnership with disabled people
Hugh McIlhatton said: "Every day I see the benefit of supporting people learning to drive or re-training after acquiring a disability. I see the difference it can make to people's lives.
"One of the best things about my job is supporting someone to realise that they can drive when they thought it wasn't possible.
"Road safety is core to what we do but ultimately I hope that the legacy of my work will be that society sees more disabled people out and about in their communities and enjoying the freedom that driving brings."
Other winners included:
St.Brigid's PS, Mayogall and St. Aloysius PS, Lisburn (Primary School)
Mark Kipling, Harding Memorial PS, Belfast (Lollipop Person)
Loreto Grammar School, Omagh (Secondary School)
Jim Doyle (Driving Instructor)
Sammy Nicholl, Roy McAllister and Constable Sue Wright (Emergency Services)
Guy Thomson and Life After (Voluntary Sector)
Woodside Motor Freight and Group (LGV)
NFU Mutual (Business)
BBC Northern Ireland – CRASH (Media)
Close Pass/ See the Cyclist and Sustrans (Two Wheels)
Davy Jackson, Road Safe NI, said: "We are delighted to play our part in recognising those who go the extra mile to promote road safety. The winning entries really stood out for their commitment over a long period of time and for delivering innovative projects.
"There is so much good work going on across our schools, local communities, emergency services and businesses. The award winners are an inspiration to others and there is no question their efforts are saving lives on the road."
---