Learner drivers are being sought to participate in a new research project to help newly-qualified drivers improve their skills and safety when they begin driving post-test.

Described as the largest 'real-world' trial of its kind anywhere in the world, Driver2020 was launched by the Transport Research Laboratory (TRL) on 10 January.
Driver2020 is investigating interventions targeted at learners and novice drivers in a series of controlled tests. The project aims to understand how learner drivers react to different training approaches and the effect they have on their driving.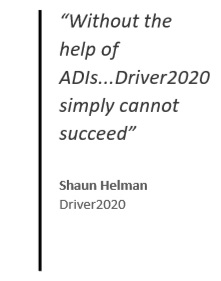 TRL hopes the results from the research will shape how young drivers learn to drive in the future, before and after the driving test.
Call for participants
Over the next year or so, TRL is seeking to recruit upwards of 12,000 learner drivers under the age of 25 years, and is asking Approved Driving Instructors (ADIs) encourage their pupils to take part in the trial.
The Driving Instructors' Association (DIA) says it is 'crucial' trainers get involved in Driver2020 as it will 'directly shape driver training, licensing and testing in the future'.
Participants may receive free additional training, e-learning or be asked to download an app to help complement their learning. They will also be paid to complete surveys once they have passed their test and have the chance to win prizes for participating in the trial.
Driver2020 is running between now and early 2021 in order to allow thousands of learners to pass their test, and accumulate enough post-test experience to complete the surveys.
Shaun Helman, project director of Driver2020, said: "Without the help of ADIs, research projects like Driver2020 simply cannot succeed. I'm looking forward to great levels of support from the profession, as we have received from previous TRL projects like this.
"I'm also looking forward to being able to come back to the profession at the end of the project to see what role they can play in implementing whatever we find, so that we can all work together to improve the safety of the people we all serve – those new drivers who are hungry to learn, to improve, and to make the roads safer."
Click here to register to take part or for more information visit the Driver2020 website.
---