The RAC is urging people to think twice before driving during the coronavirus pandemic, on the back of data suggesting a small minority continue to use their cars for trips that are not 'essential'.
A survey carried out by the RAC Breakdown shows 5% of people are driving a short distance in order to exercise – while 4% are going for a drive to 'give their car a run'.
The RAC says both of these types of journeys carry the avoidable risk of having a collision at a time when the emergency services are under enormous pressure.
However, 15% of respondents say they have stopped using their car completely.
Rod Dennis, RAC Breakdown spokesperson, said: "[It is vital] that drivers heed the Government advice and strictly use their cars for essential trips only. 
"It's encouraging to see just how many drivers reported they stayed at home over Easter, but there appears to be a small proportion who continue to get in the car either to drive somewhere for exercise, or to keep their vehicle's battery healthy. 
"While the temptation might be there with the car sat outside and largely unused, we really do urge people to think twice before they get behind the wheel. 
"Every unnecessary journey potentially adds to the burden on our emergency services."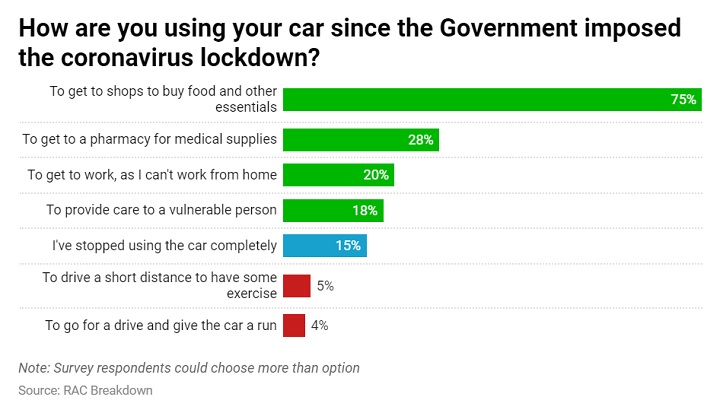 Meanwhile, a third of respondents say having access to a car is 'more important than ever' following the coronavirus outbreak.
Three-quarters (75%) say they use the car for permitted food shopping, 28% to get to pharmacies, and 18% to provide care or help to a vulnerable person.
Rod Dennis added: "These figures highlight the important role the private car still plays in enabling people to complete their essential journeys during lockdown. 
"The reality for many people is that they still rely on the car for certain trips – be it for weekly food shopping, to get to and from work or when looking after a vulnerable person."
---