While the overall new car market declined once again in 2018, the number of new low emission registrations rose by more than 20% – but there was also an increase in carbon emissions from new cars.
Figures from the Society of Motor Manufacturers and Traders (SMMT) show that 141,270 new alternatively fuelled vehicles (AFVs) were registered in 2018, a year-on-year rise of 20.9%.
In total, 6% of all new vehicles registered in 2018 were AVFs – up from 4.6% in 2017.
However, despite this, the SMMT says carbon tailpipe emissions from new cars rose for the second consecutive year – up by 2.9% to 124.5g/km.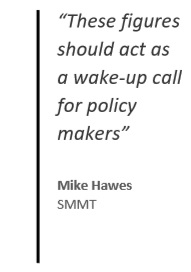 The SMMT attributes the increase to the shift away from diesel and the 'disappointing growth' in AVFs – pointing out that diesel vehicles typically emit 15-20% less CO2 than the petrol-engined equivalent.
The SMMT says environmental goals are 'at risk' and is calling for new policies to grow sales of new low and zero emission cars.
Overall, the UK new car market declined by 6.8% in 2018, with annual registrations falling for a second consecutive year.
Mike Hawes, SMMT chief executive, said: "A second year of substantial decline is a major concern, as falling consumer confidence, confusing fiscal and policy messages, and shortages due to regulatory changes have combined to create a highly turbulent market.
"The industry is facing ever-tougher environmental targets against a backdrop of political and economic uncertainty that is weakening demand – so these figures should act as a wake-up call for policy makers.
"Supportive, not punitive measures are needed to grow sales, because replacing older cars with new technologies – whether diesel, petrol, hybrid or plug-in – is good for the environment, the consumer, the industry and the exchequer."
---