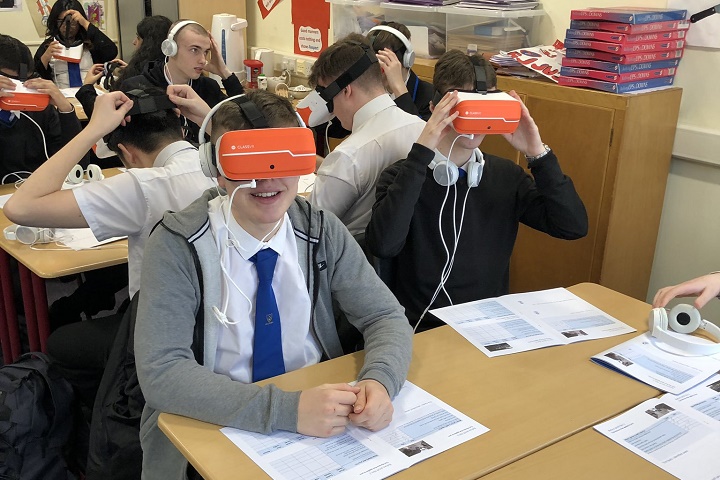 While students enjoy using VR and find it engaging, limited or one-off exposure to road safety education is unlikely to bring about 'meaningful changes in attitudes', according to evaluation of a Scottish road safety programme.
driVR is a 50-minute classroom intervention, aimed at 16-18 year olds, which utilises virtual reality (VR) to encourage participants to consider their attitudes towards road safety.
Funded by Transport Scotland, the project is delivered by Safety Cameras Scotland, Police Scotland and Glasgow City Council. Earlier this year, it won Education and Training Initiative of the Year at the 2019 Young Driver Road Safety Awards.
During driVR, students experience two VR films, take part in group discussions and complete a workbook – to encourage them to consider changing their behaviour in order to make them safer on the roads.
The first film shows a female pedestrian in her late teens who is on her phone constantly – while the second, filmed from the front passenger seat of a Ford KA, follows a young male driver, with a similar aged male in the back, who displays a number of bad and illegal behaviours.
In the final minute the viewer realises that these narratives are set in the same timeline and the car and pedestrian will soon collide. The experience ends with a fade to black rather than showing any gore.
At the end of the lesson, students are asked to set themselves goals and are provided with promotional items, including VR glasses, so that they can discuss and share their experience with friends and family.
Evaluation of the scheme, carried out by TRL's Dr Neale Kinnear, concluded that while students found driVR engaging, the limited exposure was unlikely to deliver 'meaningful change in attitudes'.
The evaluation will be used to modify the initiative moving forward – including more exposure to road safety education.
Simon McLaughlin, Safety Cameras Scotland, said: "TRL's evaluation found that first and foremost, driVR does no measurable harm. It also showed students enjoyed using VR and found it engaging. 
"However, the research also showed that driVR did not demonstrate any meaningful change in attitudes towards road safety. While this result is disappointing, it is no surprise given the lesson's limited dosage. 
"Based on this feedback a series of recommendations have been made by both TRL and the driVR creators. 
"Primarily, it is recommended that students' exposure to road safety education is increased and that we continue to evaluate our efforts to ensure we are causing no harm – and eventually making a positive impact on road safety behaviours."
Downloads:
driVR TRL evaluation report (pdf)
driVR pilot project overview (pdf)
---