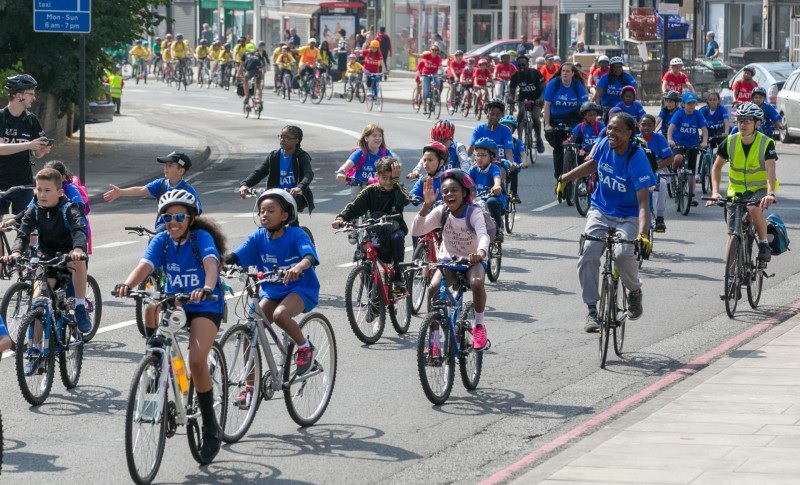 More than 1,000 pupils and teachers from 42 schools in Hackney took to the borough's streets on 27 June as part of an annual event to encourage more children to cycle.
Now in its ninth year, Bike around the Borough is organised by Hackney Council as part of its ambition to get more children walking or cycling daily.
The children cycled together in a 'bike bus' – where a group of cyclists ride together along a set route, picking up people as they go.
Riders were supported on the nine-mile route by other schoolchildren at packed 'motivation stations', with flag-waving, cheering and drumming to spur them on. Residents and staff from local businesses also lined the route to show their support.
Juni Harrison, a Year 5 pupil from Rushmore Primary School, said: "It was really fun to cycle around Hackney and see places you know but also finding new places and views of London. Best of all it's not a race, it's a relaxing ride and you can chat with your friends."
'Showcase' schools cycling event
Bike around the Borough is designed to give pupils the chance to practice skills they have learned through national standards cycle training and help them see how easy it is to travel around Hackney by bike.
Philip Glanville, mayor of Hackney, says the event it a 'special day' which allows young people to reclaim the borough's streets for cycling.
Mr Glanville said: "I am thrilled to be involved in this celebration of cycling and young people, and it is a joy to join them, our volunteers and teachers who support the event, hearing their songs and chants as we cycle around the borough."
Cllr Jon Burke, Hackney cabinet member for transport, said: "This is my first year doing Bike Around the Borough and it has been great to see how excited children are to join other schools and discover their borough by bike.
"It gives them a chance to build on the cycle training we offer and see how fun, healthy and sustainable cycling really is."