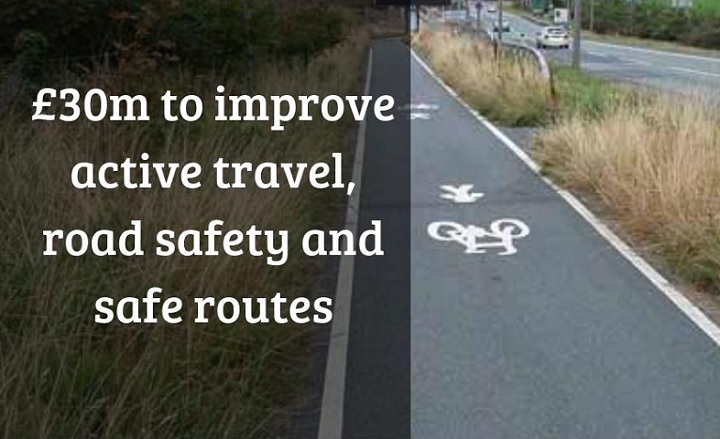 The Welsh Government has announced more than £30m of road safety funding – with a heavy focus on active travel.
Announced on 9 May, £12.7m has been allocated to 'ambitious' active travel schemes that have the potential to transform walking and cycling in their area.
A further £6.3m is going to local authorities for minor improvement schemes on active travel routes – while the Safe Routes in Communities project will benefit from £5m to widen footways, improve pedestrian access and create new crossing points.
There is also funding for training, with £650k allocated for National Standards Cycle Training and £850k for a variety of pedestrian safety schemes.
Lee Waters, the Welsh Government's deputy minister, said: "Projects such as cycle training are invaluable if we are to encourage the next generation to see active travel as the natural choice for local journeys.
"The money awarded to capital projects will go to improve the infrastructure, which will make it possible for active travel to be safer for cyclists, pedestrians and motorists alike."
Wales 'catching up with Scotland'
Sustrans Cymru has welcomed the increase in active travel funding, having previously warned that Wales was under investing in walking and cycling.
Steve Brooks, director of Sustrans Cymru, said: "Wales' over reliance on the car is damaging our health, harming our environment and hurting our economy.  
"Sustrans is delighted to see further investment which will fix pavements, make crossings safer and build new cycle paths separated from traffic.
"Whilst money is important, it's not the only answer. We need to ensure that this additional investment is spent wisely. We know that when councils cut corners and roll out quick fixes, it's pedestrians and cyclists who suffer."
---