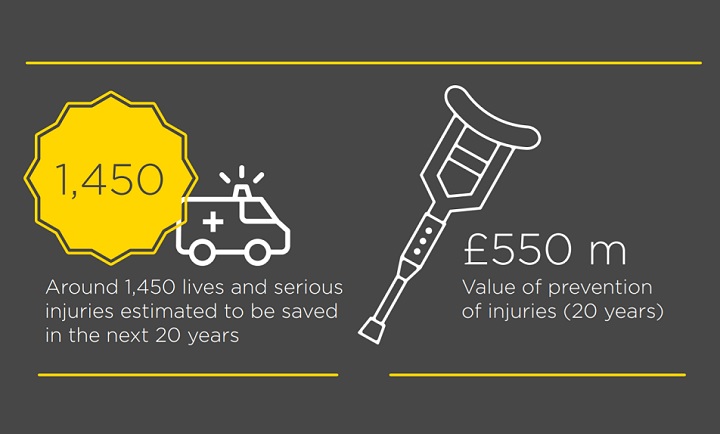 A leading road safety charity and one of the UK's largest motor insurers have issued a joint call for the Government to commit to a new Safer Roads Fund as a 'major investment in the country's road network'.
The call from the Road Safety Foundation* and Ageas came on the day Boris Johnson announced £900m of funding for 'shovel ready' local projects in England this year and in 2021.
The Safer Roads Fund was established in November 2016 to treat the highest risk local A road sections in England with remedial road safety engineering interventions. Through the Fund the DfT committed £100m to finance 48 schemes to be delivered in the four financial years 2017/18 to 2020/21.  
The Road Safety Foundation says between them these schemes will prevent around 1,450 fatal and serious injuries over the next 20 years. The value of prevention of these deaths and injuries is estimated at £550m compared with the whole life cost of treatments of £125m.  The 'benefit to cost' ratio is 4.4, meaning that for every £1 invested, £4.40 is returned in terms of societal benefit. 
Dr Suzy Charman, executive director of the Road Safety Foundation, said: "We have identified a number of road sections that are high priority for immediate investment to save lives. 
"These proposals are all as good as 'shovel ready' as they are fast to plan and implement. Local authorities badly need funding from central government to invest in such schemes.
"We know that such investments have high societal returns – often as much as £5 for every £1 spent, competing well with other major infrastructure projects."
*The Road Safety Foundation is a UK charity advocating road casualty reduction through simultaneous action on all three components of the safe road system: roads, vehicles and behaviour.
---