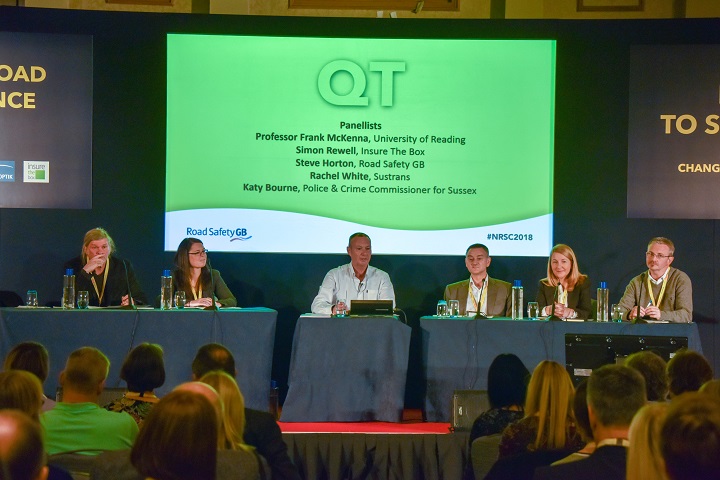 Coverage of the Question Time session at the 2018 National Road Safety Conference, which included questions about enforcement, mobile phones and 20mph speed limits.
---
Panellists: 
Professor Frank McKenna, University of Reading (FM)
Simon Rewell, Road Safety Manager, Insure the Box (SR)
Steve Horton, Director of Communications, Road Safety GB (SH)
Rachel White, Senior Policy and Political Advisor, Sustrans (RW)
Katy Bourne, Police & Crime Commissioner for Sussex (KB)
This page does not automatically refresh, click here to load the latest entries.
---
Which holds the most potential to reduce casualty statistics: vehicle safety, making roads safer, more roads policing or road user behaviour?
SH: road user behaviour – people make mistakes
KB: public fed up with lack of enforcement. People push the boundaries because they know they won't get caught.
RW: making roads safer – from the point of view of pedestrians and cycling
SR: changing behaviour can be a long, uphill struggle. Quick changes – vehicle or road design.
---
Can we enforce our way to better road safety?
FM: We need to do it with the community. People hate points on their licence – over fines etc.
---
How do we move forward in road safety?
SH: Closing the gap between academia and practitioners
RW: In some areas, the evidence is already there. Being ignored over risk of upsetting people.
FM: Unless you've got evidence, don't do it.
---
Use of mobile phones – should all phone use, including hands-free, be banned?
SR: Yes – but how do you enforce it? How does a police officer know the difference if a person is singing to themselves or talking on a hands free mobile phone?
KB: No, hands free should not be banned. More enforcement needed for hand held mobile phones. Public need education to make decision.
Comment from floor: hands free being legal makes the public think its safe
KB: You're effectively taking away the right to have a conversation. Would welcome a discussion – but no need to go straight to legislation.
FM: Drivers using mobile phones causes harm to others.
---
Should we reduce the default speed limit in urban areas to 20mph?
RW: Short answer, yes. Bigger picture than just reducing casualty – does reduce speed. Has a huge effect on perceived safety – which makes more people cycle and walk.
SH: We all buy into the concept of reduced collision speeds. We should be upfront about why we use 20mph – active travel instead of road safety.
RW: Up to local authorities to look at whether appropriate. Cases where it works, cases where it doesn't.
FM: You can redesign roads – narrower roads mean slower speeds. Work with communities – change the culture.
Comment from audience: Lack of enforcement undermining 20mph roads.
---
Black boxes – should they be used by more than just young drivers?
SR: Yes – we should be making it available to wider audience. To start with, felt like it would have a greater impact on younger driver & to an extent, has worked.
FM: Massive opportunity but first we must see how it reduces collisions – need to see the calculations directly. Then, black box insurance should be used by everyone.
---
Should we use the term accident?
SH: No – crashes are not an event without an apparent cause.
FM: It's not obvious – positives and negatives.
Comment from floor – it's very important to use the correct terminology. Need to be careful as professionals.
RW: Can link it to the 'careless' or 'dangerous' driving offences debate – language vastly important.
---
Do we need to increase traffic police alongside road safety targets?
KB: Yes we need more officers – and there is a pledge in Sussex to that. Enforcement is important.
SH: Fear of detection needs to be increased
FM: Certainty of detection changes people behaviour. Speeding is the only offence that has a reasonable chance of being caught – automatic speed cameras. Change of being caught is drastically low.
Comment from floor about how targets are not needed.
KB: Targets can drive poor behaviour
---
How can we improve in-car child safety?
SR: You can now buy car seats that evolve as a child grows. There will be an innovative response from manufacturers.
---