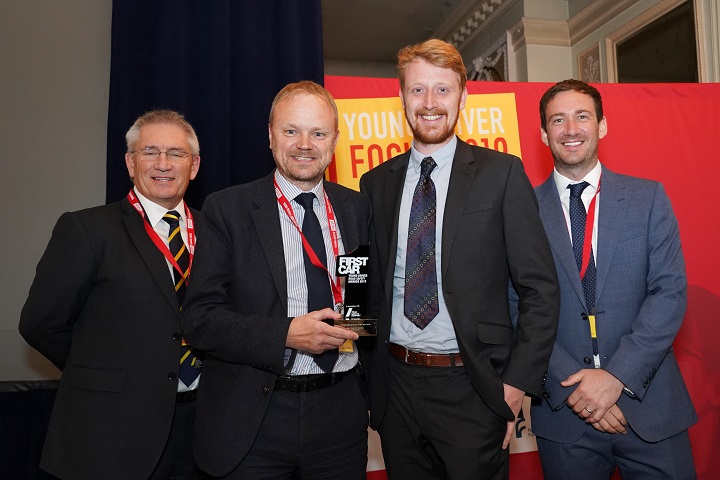 In the penultimate of a series of features looking at the 2019 Young Driver Road Safety Awards' winners, we profile 'Too Close For Comfort' by Cycling UK.
Now in its fifth year, the Young Driver Road Safety Awards scheme recognises the efforts of road safety professionals to reduce casualties among young drivers.
The winners are chosen by a panel of judges with broad and extensive road safety experience. In all categories the judges look for schemes with 'clear and measurable aims and objectives and for evidence of evaluation'.
At the 2019 awards' ceremony, held as part of Young Driver Focus 2019 in London on 1 May, Too Close For Comfort won in the Partnership Scheme of the Year category.
Equipping young drivers with skills
Too Close For Comfort uses virtual reality to ensure new drivers are equipped with the skills and understanding needed to overtake cyclists safely.
First trialled by West Midlands Police in 2018, the three-minute immersive film demonstrates both a dangerous and safe overtake from the driver and the cyclist's perspectives.
This allows participants to experience that an overtake, which may feel safe from within a car, can be intimidating and dangerous for the cyclist – helping drivers fully understand the importance of leaving a minimum of 1.5m space.
One driver who took part in the trial said: "That's changed my perspective – I'd never have thought to give cyclists that much room before."
Following the pilot, the software was improved for ease of use, and has since been deployed at road safety educational events across the country – including 'MegaDrive' in Cardiff in February 2019.
The virtual reality film is also being made available to driving instructors for use during practical driving lessons.
Despite being in its preliminary stages, Cycling UK says the initiative has had a 'real positive impact' – with one participant from the 'MegaDrive' event saying: "Even once I knew you should give 1.5m space to cyclists when overtaking, I hadn't realised how that actually felt in real life until I saw the film."
---
Judges notes
A behaviour change initiative to help young drivers be more considerate to cyclists. Great use of video and the power of VR.
A really clever campaign, telling the story in an engaging way with excellent use of empathy. Thoughtfully developed.
---